Friday night we met some friends downtown at Jillian's, or Jillian's Billiards, whichever you prefer. Jillian's is a three floor complex, downstairs you have a ton of big screens and a bar, on the second floor you have the "Amazing Games", and on floor three there are pool tables and bowling lanes.
We hadn't been to Jillian's before, and we figured with such an uncreative generic slogan like "Eat. Drink. Play.", hey, it's gotta be great. But Jillian's isn't a place I would return to that often, and here's why.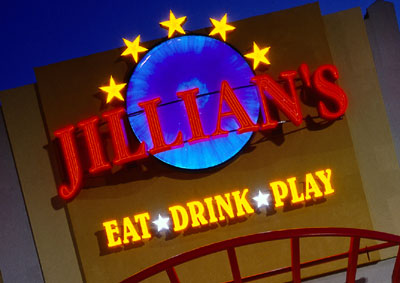 Jillian's Billiards – The Good and the Bad
I will say, that overall, I think I would go back for certain things. I would go and hang out downstairs on a Friday night. There is no cover, the food isn't any more expensive than a Chili's or O Charlie's, but you have access to three floors of fun that you can take your drinks with.
However, the arcade left something to be desired. When we were there, it wasn't crowded, it wasn't dirty, and it wasn't filled with top notch American's, but hey, you don't expect Jonathan Blingtington to be there either sipping wine and talking about investments.
But, by my estimate half of the arcade games didn't work or were in partial working order. I don't prefer the modern games and in fact I despise most of them, like the big noisy racing car games or in this instance there was a non functioning stand up fishing game called "Sega Marine Fishing". But, I do empathize that today's generation enjoy that type of arcade fair. So, I understand. I was a bit surprised that there was not even one Ms. Pac-man or Galaga machine with the obnoxious 25″ monitors, but, I still understand. (Click the photo for the gallery)

And I understand if you have even 20% of the games not working, because, let's face it, Jackie Federline-Spade-QRedneck beats the snot out of the controls like they were fightin for a spot in the beer tent line. But come on, half of the games not working? Jurassic Park, Sega Marine Fishing, South Park Pinball, Revenge From Mars Pinball, Multicade, multiple racing games and a couple of the Harley machines, with how big these modern arcades are, that is half of the floor.
Also, it wasn't just that so many weren't working, it was that some of them were "half" working, and when you inserted you card to play, you would get a game that, like in Revenge From Mars, the flippers would stop working intermittantly, or in the case of skeeball, you would only get one ball to throw.
So, if you like today's noisy, interactice, gaudy beast like games, just take heed. Jillian's downtown has a lot of great things going for it, but a working arcade is not one of them. Better to blow your money on a couple of $4.50 Corona's, at least they will give you something back after about $20 worth.
There are a lot more Jillian's locations around the country, have any other collectors been in one near them? Do they have any classic games in any other locations? Are the machines broken down as well?
Here are some similar arcade posts
If you enjoyed this post, please consider to leave a comment or subscribe to the feed and get future articles delivered to your feed reader.