I would try to stay away from reposting information that was in the common arcade collecting groups, but I came across this post from Quarter Arcade about Mad Planet control panel overlay reproductions this morning just as it came across the wire.
Quarter Arcade has a "limited" run of Gottleib Mad Planets control panel overlays available that have just been listed on their site.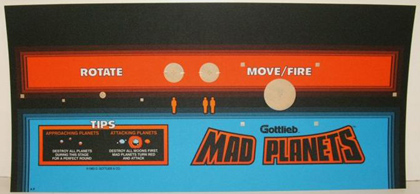 Just got these in from the printer a couple days ago: screen printed, Gottlieb Mad Planets control panel overlays. We did a small run of these overlays as I know there aren't a ton of them out there, but I personally love the game really wanted a nice one for my game.

I realize the pricing is on the higher side, but bear in mind, this is a limited run and there just isn't enough demand to support a large run. I have seen NOS Mad Planet overlays sell for two or three times this amount. Also, I believe the pricing is in line with dealers who have done CPOs for the more obscure games.
The artwork looks good, and as Anthony mentioned, they aren't cheap, but look at what a Food Fight CPO costs from Quarter Arcade, I don't think this pricing is all that far off if you look at apples to apples. Mileage of popularity of the game may vary….
Here are some similar arcade posts
If you enjoyed this post, please consider to leave a comment or subscribe to the feed and get future articles delivered to your feed reader.