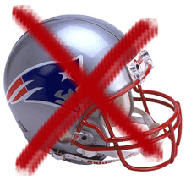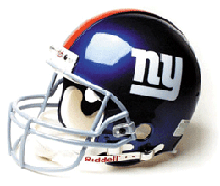 I was shrieking with delight (not recommended for most guys) at the top of my lungs last night when Eli Manning connected with Plaxico Burress in the endzone with 39 seconds left for a touchdown and a Giants lead of 17-13. I couldn't believe it, but how sweet an ending to a season for the Patriots where they seemed to be untouchable, and they knew it and showed off at every turn.
On the radio on the way into work today one particular fan / comedian from New England commented that around win 8 or 9, people were coming up to him and saying, "I hope the Patriots lose. I hate the Patriots." The comedian went onto to say that "People just wanted to hate the Patriots because they don't want the Patriots to have a perfect season."
Wrong!
From my perspective, people don't want the Patriots to win because they are sick of the Patriots winning all the time. Plus, the Patriots come across as less than humble winners who enjoy running up the scores on other teams. But it isn't even the scores that bother me, it's Bill Belichick and how he comes across. I still cling to the idea that, sports players and coaches should be confident, but not arrogant jerks. We know they know to win, that is what we that fans pay to see. We enable them to make the big bucks. Do we need them to flaunt it in our faces? Hardly. Belichick reminds me of a less vocal version of the character that Jon Voight played (Bud Kilmer) in Varsity Blues, do anything to win. Heck, he can't even stay on the field, he's got to stop off like a baby before the final second is even played. Brady could have been the leader, but I believe he left too….
But, let's put that aside for a moment and look at the bigger idea. The Patriots are football's Yankees of recent memory. No, they can't do all the spending that they Yankees can, but from a general public perspective, they are the team to hate because they "always win". They have still won three superbowls in the last seven years, and won three in a span of four years. Granted, they haven't won in the last three years, but does Tom Brady need to be equated with Terry Bradshaw and Joe Montana as one of the statistically best quarterbacks ever at the young age of 30? It seems so easy for him that it is unfair. Luck has played a little role in his success initially. He is talented beyond a doubt, and it pains me to critique him when we graduated from the same alma mater, but a huge piece of luck came into play when he got to be the starting quarterback from fourth string during the 2001 season, and then go to the Super Bowl to win it all. His first full season and he gets a Super Bowl ring? Seriously. He's lucky, but two more rings in three more years just makes ya love him or hate him.
(Sidebar: But he is good, you can't take that away from him. On the field next to Belichick, he looks like a jerk, but he is great in the media, so my dislike for Brady is mostly because he is the competition, and, don't hog it all. Brady doesn't believe that people remember what happens from year to year. Ha! We sure do. Is Brady a role model? I don't know about that, everyone has their faults. I am not so sure his baby situation is a great message, but hey, I don't know the specifics of that either. Peyton had some bad press in college as well, so no one is perfect.)
The Patriots beat everyone they played in the regular season and the playoffs, and went 18-0. In that run, they also set records for most touchdown passes for a quarterback, Brady with 50 (I don't care that he beat Peyton, that doesn't factor in for me), and most touchdown catches in a season, 23 for Randy Moss. I mean, heck, good for Randy Moss. He is a cancer that would only work on a team like the Patriots, with a strong coach and a winning record. But in one season do we really need to add in a Super Bowl ring? Brady's fourth might I add. Hell No!
So, I am so happy they lost. Their streak ends with 18 in a row. Heck, they have yet another record for most wins in a row at 21 over consecutive seasons. Next year they will be great again, but at least they have been temporarily brought back down to earth.
Again, my dislike isn't stemming from the Colts not repeating. They had their day last year, and this year they didn't capitalize. I could blame it on the ton of injuries, or we could go back and blame it on the fact that so many players left for more money after the Super Bowl last year. But the fact is, they got beat by a better team in those four quarters. But the great thing about the Colts, is that a lot of their team seem like nice people. Tony Dungy is great, Peyton is honest and humble, and Reggie Wayne is a stand up guy as well. Keep the mic away from Bob Sanders when they win big….but hey, he's an amazing player and you need those to be successful.
I would probably be more inclined to celebrate New England if Belichick was more like Dungy. But he is not, and that is why it is so sweet to have another Manning beat Brady this year. The great underdogs came back and won it, and for any little guy that has ever felt down and out, a win against the mean "big brother" is a win for them too.
Here are some similar arcade posts
If you enjoyed this post, please consider to leave a comment or subscribe to the feed and get future articles delivered to your feed reader.