I think that I must be cursed from picking up on any great deals involving cocktail table top arcade games in Indianapolis. Late last week I stumbled across a new classifieds website that contained the following ad;
TABLE PAC MAN GAME 1980 BALLY CO. NEEDS MONITOR GOOD CONDITION SELLING FOR $ 80. CALL FOR INFORMATION ASK FOR ED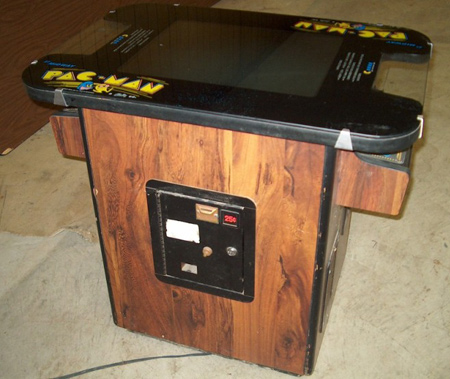 Twice in one month I missed great deals on table top arcade games. I called and left a message, figuring for sure that the pac-man cocktail had sold and the seller had forgotten to take the listing down. That was Thursday, and finally on Saturday I got a call back saying, sure enough, that pac-man arcade game sold last month soon after it was listed.
Arcade game deals in Indy are all about timing
It is bad enough if I missed out an a great arcade deal within a couple hours driving, or just out of state, but in the span of a month to have two cheap cocktail pac-man's in Indianapolis sell out from underneath me is really frustrating. I doubt that they were the same machine based on location, but either way, two separate listings. Granted, I just found this new website, but it is one more of a growing list that I would need to monitor due to a lack of RSS and I just don't have that time.
Either way, I hope my day comes. I have been researching software tools that will notify me of new RSS listings on Craigslist and other services, but haven't been completely happy yet with what is available. I am looking for a piece of software that pops up a notification on screen, because otherwise, it is up to me to remember to check my arcade feeds and then it comes down to timing like it did in Michigan.
Does anyone have any suggestions on what they use, if they want to disclose that information 🙂 ? Any tips for me and keeping on top of arcade game deals locally in my area of Indianapolis, IN? Any collectors locally claim this pac-man cocktail classified pickup?
~Update 03.19.08 One of the two Pac-man cocktail machines has surfaced. My guess is that it is the cocktail out of Zionsville, but that is just a guess. Sure enough, it's a flip. Who is this guy in Fishers, and how was he lucky enough to pick up one of these cocktails? He is another collector?

Selling for $1200, best of luck. The way the rates are right now on ebay for these cocktail cabinets, he might just get it. But I believe he is going for top dollar, when the value of a Pac-man cocktail in the Indianapolis are might be more around $800-$1000.
Here are some similar arcade posts
If you enjoyed this post, please consider to leave a comment or subscribe to the feed and get future articles delivered to your feed reader.