Mike Fox, a collector in Chicago is offering his Q*bert Multi Kit (developed by Dave Widel) for sale to RGVAC before auctioning it on ebay. He also mentioned that he would include the promotional Multi Q*bert t-shirt that came with his order when he originally got the kit. A quick search on Google didn't turn up anything about the Q*bert shirt, so I asked for a photo.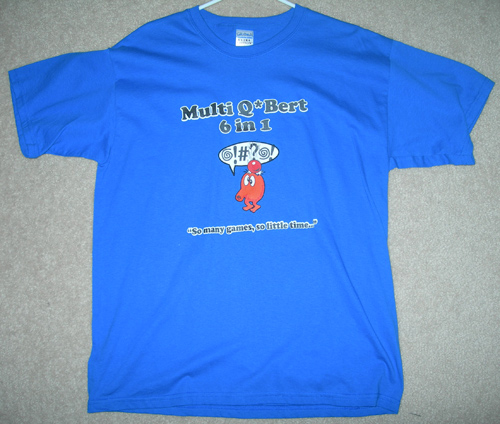 I emailed Mike Doyle to find out a little more information. Mike took it upon himself to make up these shirts and designed the layout to look as close as possible to the game's artwork. The font chosen was as close to the one used in Q*bert as was available. The original multi Q*bert kits were done on a partial pre-order basis (assembly started as orders were accepted) and as a result Mike had time to do a quick run of shirts and get each person's shirt size who ordered a kit.
The feedback made making the promotional Q*bert tshirts worth the effort. There weren't exact numbers, but there were probably around 50 Q*bert shirts produced. A few of those went to The Kansas City Group1 along with a few youth sizes that went to family members.
Q*bert T-Shirt Owners
For those handful of collectors who got one of the limited run of 50 tshirts, what have you done with yours? Do you wear your Qbert shirt? Or have you pinned it up / framed it in your gameroom? Would you be willing to submit a photo of yourself in the shirt, or show what you did with it?
About Mike Doyle
Mike is a well spoken programmer who has had some phenomenal community success with his involvement in the 96 in 1 Multi Pac kit and the Multi Q*bert kit with Dave Widel. If you have a Q*bert or a Pac-man machine and have a heartbeat, check out his site to purchase the Multi Pac kit and get 96 different versions of Pac-man. The Q*bert kit isn't available currently, but you can email Mike and see if you can get on his list if they do another run. Thanks to Mike Doyle for the information for this writeup.
Related Information
Photorial / Tutorial on installing Mike Doyle / Dave Widel's 96 in 1 Multi Pac kit
1Mike is a part of The Kansas City Group, a geek infested gang of arcade collectors that dates back to the early days of the internet. They do group warehouse raids, auction trips, and generally help each other out whenever needed.
Here are some similar arcade posts
If you enjoyed this post, please consider to leave a comment or subscribe to the feed and get future articles delivered to your feed reader.