This weekend, fellow arcade collector Robert / Brad Spelman (Madocowain) unveiled his brand new basement bar in style an arcade gaming party. Drinks were flowing, off key singing with Rock Band was plentiful, and the new arrangement of Brad's awesome game collection saw a lot of play, especially the little ones played the upright games which was cool to see.
There were a lot of friends, probably 20-30 people in all at the shindig, a lot of them just friends that weren't necessarily interested in classic arcade games, but IMO, that made the party better. Scott from Fort Wayne came down for the night, he has a good size collection of games and is a always a nice guy to talk to, but he is the only other collector I know of that was there.
Here is the original Spelman barcade topic on Klov where Robert is showing progression photos of the build. The bar is awe inspiring. Enlisting his uncle for help there is some serious attention to detail. Lit shelves, inset backlit marquees in the front wall, a new framed Tron lightbox, led faucet from Think Geek, and a lcd tv with ambient music or music videos playing in the background.
Awesome party Brad, hope you do it again soon. Click on the photo for a photo gallery from the event, mostly of the classic arcade game arrangement.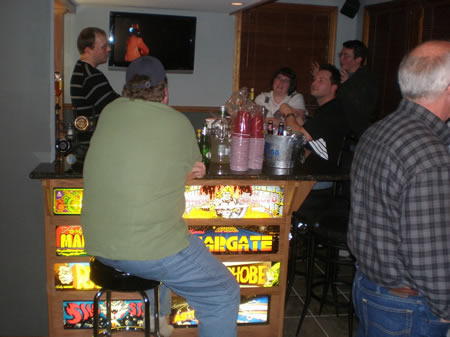 Here are some similar arcade posts
If you enjoyed this post, please consider to leave a comment or subscribe to the feed and get future articles delivered to your feed reader.