Quick post today with more progress on the Atari Space Duel sideart, a huge ship has been vectorized. Zorg has kept at this project, my guess would be that in about a month and a half we should see a finished product.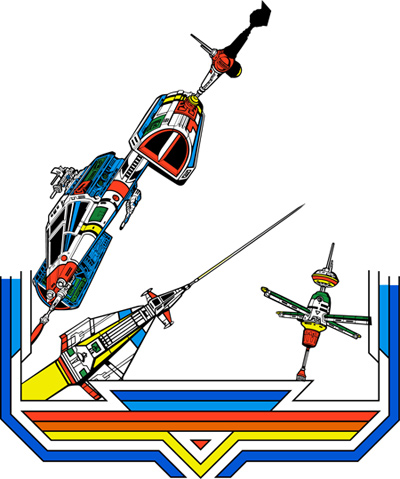 Zorg has my back on this, as well as Chad at Crafty geek. Between the two of us, anything he needs from color matching to art critique against actual cabinets can be done. I have access locally to Robert Spelman's nice looking Space Duel.
Does Scott Evans (Atari Games) have the original artwork films? That is the question. I have emailed Scott before, but I am not well known enough that I would even cross his radar. We need someone like Rich Ford, Joe Magiera or Darin Jacobs to ask him if he has Space Duel films.
Will Rich at This Old Game be done with the Donkey Kong 2 sideart by then? The star may align, the two projects may line up, and Roseanne Barr might have work done! Oh, crap, the last one already happened.
~Update 4.18.08 Francis from Ataricade IM'd me and told me that Scott Evans does indeed have the Space Duel artwork films, including the sideart. I emailed Zorg, and he said that he is going to put this on hold for now and focus on other projects.
If you've been following this project, you might want to leave a comment and let us know interest for a run of Space Duel sideart reproductions. My guess is there isn't enough of you out there that would want this to happen otherwise some of the big guys like Darin would have already reproduced it.
Here are some similar arcade posts
If you enjoyed this post, please consider to leave a comment or subscribe to the feed and get future articles delivered to your feed reader.