Short post, can't resist when one of my favorite games come up for sale nearby on Craigslist.
Best offer takes it – i have a 80s pengo machine by sega. i was told it needs a new transformer to make it work. perfect for someone who knows a little about repair. Selling for the top offer – please email me if you have questions.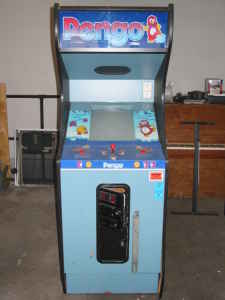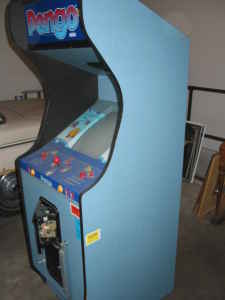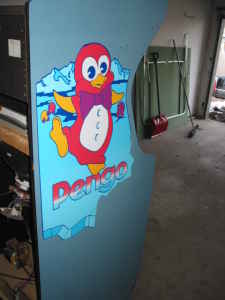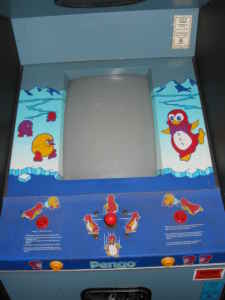 This Pengo could be a good deal, 'best offer' takes it and the cabinet looks to be in solid shape. The one side of the cabinet has completely missing sideart, and the other side has some artwork pieces missing. But with the game not working, and the ad giving a guess towards the problem, but nothing concrete, this Pengo could go for cheap as well. I would guess it might go for about $200, which is high but for the Chicago area with the amount of collectors a non working Pengo might be higher in demand.
Some day we'll have intelligent Craigslist users who start to realize that if they put 10 minutes into their ad, include photos, they will be more likely to sell any item and save themselves a ton of time answering common questions. But that is not today, not with this Pengo. The seller provided photos but gives no idea to the potential buyer if they really know anything about how arcade games work, and whether the the old "transformer" is really the problem.
Tips for listing an arcade game on Craigslist
Here is some great suggestions of types of information to include in your arcade game ad;
Where you got the game
How long have you had the arcade game
Repairs that have been done to the game in general
Any other known history owner / usage history of the game
~Sigh. If I listed some item I knew very little about on Craigslist, I probably wouldn't include much information either. But for an item as unique as an arcade game, or a Pengo machine, surely you must find out the current market value and stumble across the fact that these games are collectible.
Someday, one's collector's dream. Make my life easier:)
~Edit 04.11.08
Turns out Michael Hasenfang up in Northern Indiana picked this Pengo up, and for a great price too. All the arcade game should need is a new power supply. That makes three Pengo's in Indiana, ( including the one Aaron in Indianapolis got in February) which I think is pretty cool.
Here are some similar arcade posts
If you enjoyed this post, please consider to leave a comment or subscribe to the feed and get future articles delivered to your feed reader.