Came across a listing yesterday morning on Craigslist Indianapolis for a cheap pinball for sale;
set of lamps-$20,,exerciser bike-$25,,dining table-$20,,coffee table-$20,,2 fish aquariums,10,20 gallons-$20 for both,,pinball machine-$35,,king size water bed mattress,new in box-$35,,garden tiller-$25
I am passing on this pinball, so this potentially cheap deal is still up for grabs. I am sure I am not the only one who emailed about the pinball, but either I was first in line, or everyone else found out what pinball machine it was and determined they didn't want it before me.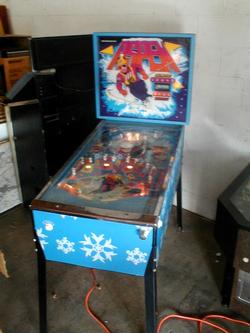 It is a New Brunswick Aspen Pinball machine, apparently a sister machine to 'Alive'. (Photo above from Pinball Database) It is a home pinball unit, which after a little research, that appears to mean that the cabinet isn't as sturdy, and other characteristics make it not appealing to most pinball collecters. Maybe something like the Konami / Midway machines that are sold in Costco? It tries to emulate the real thing, but is cheaply made and falls way short. Either way, I don't want to mess with it, but maybe this will be an pinball 'find' for someone in Indianapolis, or good resell profit for someone. I have seen prices of arcade / pinball collectors trying to sell these Brunswick pinballs for only $199.
The pinball doesn't completely work, and it is in Boone county, north of Zionsville on the north side of Indianapolis. Contact Evelyn if you are interested in buying it for a cheap $35, I just emailed her and cancelled my plans to buy the pinball, so it should still be up for grabs. 317-372-9312
Here are some similar arcade posts
If you enjoyed this post, please consider to leave a comment or subscribe to the feed and get future articles delivered to your feed reader.