For all of the great arcade websites that exist for collectors to interact and collaborate, I have not come across many articles that I would consider a "primer" series stepping a potential future collector through the process of having arcade artwork reproduced. There are a lot of small nuances and skills that go into a run of reproduction artwork and we are going to try to cover all of the main points in this series.
Part 1: Researching past arcade reproductions
Here are the areas we are going to cover in this part of the primer;
This is the first part in a primer series to an article series that we are calling Arcade Artwork: From Screen to Screen. Keep following Rotheblog as we walk you through all of the pieces of having a piece of arcade artwork reproduced.
Did you read the other Arcade Reproduction articles?
No? Well you might want to check out the arcade artwork parts you missed.
Part 2: Scanning Arcade Game Sideart Laying Flat (Coming Soon)
Part 3: Stitching Scanned Arcade Artwork in Photoshop (Coming Soon)
Research on past arcade reproductions
This is the first step and it is completely up to you how much time you want to spend researching old arcade artwork. I find it kind of enjoyable, some other collectors may not. If you are a new arcade game collector, I would spend more time on this step than if I was a seasoned 'carpal tunnel' veteran. In my definition, I would say 1-3 years is new, and 4 years and beyond qualifies more as a veteran, but results may vary based on how much arcade related stuff on a day to day basis. For 15 years plus collecting games I would say "Seek professional help;)"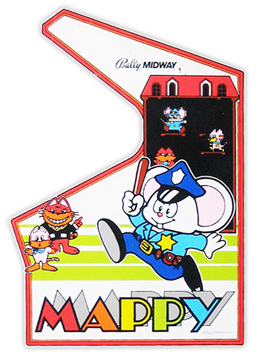 For this primer, I need to use an example piece of artwork to base my examples and research around, so I am going to pick Mappy sideart as the target piece of artwork for reproduction (On right). The question we are looking to answer is, was Mappy sideart ever reproduced in the last 15 years? (Most of these games came into collectors hands for preservation within this timeframe which also aligned with the resources to do so).
I had a little bit of conversation about Mappy sideart when I posted about my newly acquired Mappy cabinet. Most seasoned collectors know that high quality Mappy control panel overlays and the oversize marquee were both reproduced by Phoenix Arcade, but the kickplate, bezel, and sideart are no where to be found beyond vinyl inkjet stickers.
There are a lot of different arcade websites you will need to check. Let's start with the currently in operation reproduction shops and remember, we are primarily looking for silk screened artwork, not inkjet reproductions. At the very least, let's find out if they even have digital vector / high quality raster files for the Mappy sideart.
These are the four searches for Mappy artwork I will be using on all of the websites I will be referencing;
Mappy Sideart
Mappy Artwork
Mappy Repros
Mappy Art
Current Reproduction Artwork Shops







On each of the sites, use their search tools, but don't expect perfection. In particular, sites like the Klov forums and Mike's Arcade have terrible search tools, you will need to do a companion search on Google for your chosen search terms. For Arcadeshop, that is another site that I refuse to use because of the way it is organized, with one huge scrolling list of neon green links. Besides, they don't have a search tool, so just use Google. I explain in more depth below my one tip on using Google to search these websites directly.
Also worth noting, the many websites / companies listed here may not look the same in two years time. There are other players in the reproduction market, but they aren't big enough to really mention here. That may change, but do your own research if you feel like you want to search through minutia.
Final note here. Mame Marquees makes inkjet prints on vinyl, all of the other shops do traditional silk screening. This is always a raging debate – quality, longevity and cost of inkjet vs. silkscreen, and is a topic that is out of the scope of this article. Hopefully I can go into an article for this topic later.
Closed Reproduction Shops
Here are two shops that aren't producing artwork anymore. It is important for you to know a little bit about the history of the reproduction business;
Arcade Renovations (Listed here for entirety, just an established brand / empty forwarder now owned by Quarter Arcade – Screenshot from The Way Back Machine)
Classic Arcade Graphix (artwork.joymonkey.com)


The Classic Arcade Graphix artwork library of scans and vector artwork was purchased by a group of collectors and put online at artwork.joymonkey.com. Registration for the website is now closed, but if you know who to ask, sometimes you can swing some deals to get some artwork pieces. As I mentioned above, Arcade Renovations is now part of Quarter Arcade, but you can use this knowledge in the next section when running specific searches. Quarter Arcade may have never done Mappy reproductions, but Arcade Renovations may have and if artwork sold out, out of stock items are not necessarily listed on Quarter Arcade.
Major Arcade Forums
Next, do a search on the bigger arcade related forums. Stick to the forums with the greatest traffic, otherwise you can spend way too much time trying to find Mappy sideart that was never produced. Only look through every single result for the first two pages and maybe scan the next page or two of results to see if there is anything relevant. Vector List and Raster List are two old groups with knowledgeable and passionate collectors that not as many collectors know about. Search these carefully.





The Klov forums in particular are relatively new when held in relation to how long the RGVAC newsgroup has been around. Trying each different search will turn up a lot of overlapping results.
If you have other arcade contacts and you are a newbie, ask around. See if any other collectors remember if your piece of artwork has ever been produced. The more entrenched the collector the better. I have about 4-5 guys that I will typically ask to rack their memories and push aside the dust, all of them with about 10+ years of collecting and restoration experience. Remember, be really nice to these guys, whether you are just starting out or not the most important commodity in anyone's life is time. Don't assume they just want to help you out, be humble and grateful if they reply.
Other Miscellaneous Arcade Artwork Searches
Local Arcade – Free Vector Arcade Artwork
Google – Don't bother with MSN and Yahoo. You know they suck 😉
Local Arcade – Vector Artwork
Do a search on Local Arcade to see what you can find, but take extreme caution if you find the piece you are looking. Unless posted by a user named 'Zorg', a large portion of the artwork on Local Arcade is inaccurate and could actually decrease the value of your arcade cabinet if you print out artwork from this website and apply it to your cabinet in an attempt to restore it.

Good old Google
Finally, do a general search in Google, as well as your companion searches. This is the companion search I would use on Google that will specifically search the results from one website. Type this into the search field;
site:www.arcadeshop.com mappy
This searching method is usually foolproof, but not always. If the site is archaic, uses frames, or is blacklisted for SEO fraud then not all of the pages will be indexed.
Use this companion search with each of the aforementioned websites, changing the website address appropriately. I only searched with the term 'Mappy' in this instance because of the lack of popularity of the game. I don't expect to find many add on kits, parts, and other exterraneous information in my search. Now, if I was searching for some reason for Donkey Kong, I would use the search term 'Donkey Kong art'. By shortening the query string to art, in good search tools and Google you should pick up on any portion of the accompanying word like 'artwork' and 'sideart'.
The last note, bookmark all of the references to reproduction artwork that you find, whether they specifically talk about sideart or not.  If it turns out that the Mappy sideart was never produced, you will have a rich list of references from which you can build a list of other potential interested collectors who you can then contact about buying a set of finished artwork.
Reproduction artwork research results
After searching on each individual website, and searching those same sites using Google, here are my results for the Mappy sideart;
Current Reproduction Artwork Shops – Nothing
Closed Reproduction Shops – Nothing
Major Arcade Forums
Klov – Some collector interest in the Mappy kickplate and sideart, and one specific mention by a trusted source – Prok (Game Stencils) that this artwork has never been reproduced
RGVAC – No record of Mappy sideart ever having been produced. There is one post where Darin Jacobs talks about doing the kickplate / bezel / sideart if and only there is demand.
BYOAC, Raster List, Vector List, Dragon's Lair Fans – Nothing
You can look over some of my saved Mappy related information and bookmarks (including the above mentioned info) at my saved Diigo public arcade bookmarks.
Other Miscellaneous Searches
Local Arcade – Doesn't have repro Mappy artwork
General Google Search – Nothing that didn't already turn up in the forum specific searches
Conclusion on past Mappy repro artwork
It appears as if Brian Jones was right, Mappy sideart was never made. Whether it was or not isn't the point. You now know how to do your due diligence and research your potential art piece before you take on the next step.
What's the next step you ask? I am going to give you tips for getting other collectors interested in your project which will help finance your reproduction job, and some of things you can do to make sure you have committed 'buying' collectors. There are no guarantees in the reproduction business, but is there in anything in life that is a guarantee? Hell no. *cough* Michael *cough* Vick *cough*
Here are some similar arcade posts
If you enjoyed this post, please consider to leave a comment or subscribe to the feed and get future articles delivered to your feed reader.