Look what I got in the mail today! A carefully removed piece of Atari Football sideart artwork.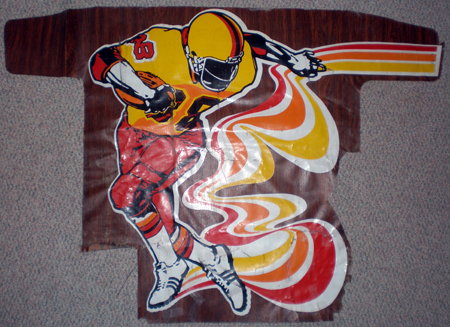 Not a lot to say just yet, other than to announce that I will be vectorizing this piece of Atari Football artwork to hopefully be reproduced in the near future. Phoenix Arcade did the control panels overlays, but I think that is it for artwork for this classic game. Next step, scan the football artwork. Who knows, you'll probably see a tutorial on 'scanning peeled off arcade cabinet artwork with no straight sides' LOL
Seriously though, even though there are some small tears in the sideart vinyl, I will be able to correct all of the problems when I vectorize the sideart. However, there are a few areas that have streaked smudging that will be difficult to interpret the original printed lines. I may need some help. Will anyone be able to help me with small detail photos from their own Atari Football arcade machine?
How many people out there are interested in buying a set of Atari Football sideart to restore their cocktail machines?
~Update – Differences in Atari Football XO Control Panel Overlays
I did not realize there are two different control panel overlays for Atari Football, but a recent topic on Klov clearly shows that there are. This Old Game will be doing the overlay with the more in depth football artwork, an overlay that is indeed different than the one done at Phoenix Arcade.
Photo clearly showing the two different control panel artwork sets for Atari Football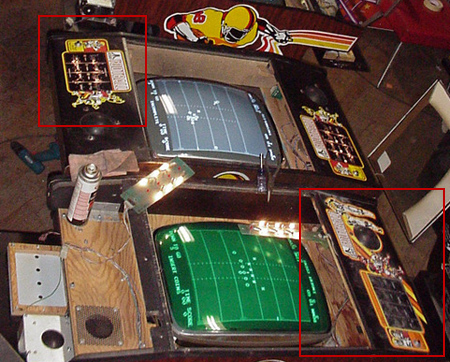 Phoenix Arcade control panel overlay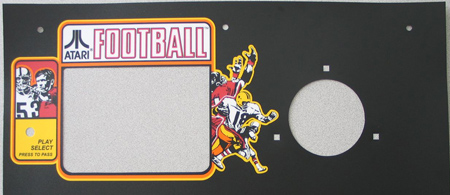 Scan of the original version of the Atari Football XO control panel overlay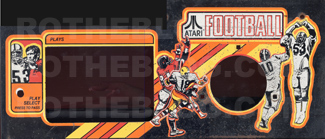 When Darin was gauging interest on the Atari Football control panel overlays back in 2006, he took a vote on which one people wanted. The full artwork overlay was more original, but the lesser football artwork cpo won out. Now, those collectors that picked the cooler overlay will have a chance to own a copy.
Here are some similar arcade posts
If you enjoyed this post, please consider to leave a comment or subscribe to the feed and get future articles delivered to your feed reader.