I spent my weekend scanning and vectorizing the Atari Football artwork, among other things. Here are some images of the composite Football player scan and a screen showing the artwork traced to date.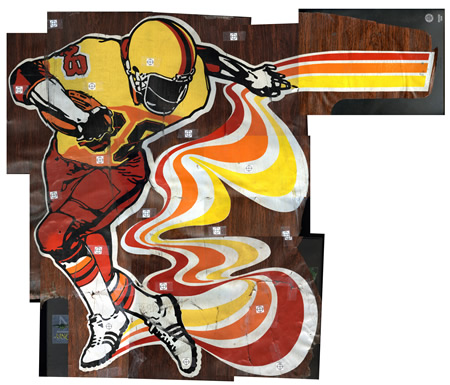 It was a frustrating weekend. Between my wife needing the computer for most of the weekend for a final project, to the wireless on my laptop dying and needing to be backed up and inevitably sent off to HP for two plus weeks, to a snag in this Atari Football project I have felt some guilt not being able to post over the weekend.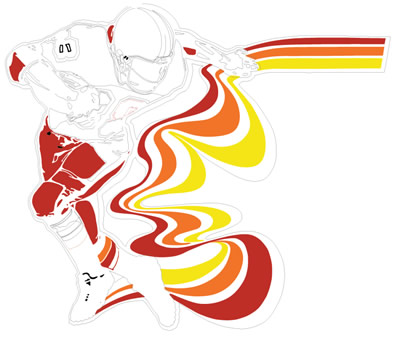 Here is a screen of the paths, and some of the color fills. The cleats are drawn, but are in white and filled, so you can't see them.
As I had mentioned in the original post about receiving the Atari Football sideart, pieces of the artwork were marred. There were large scuff smears going across portions of the legs, torso and arms of the football player that made it impossible to draw. I have some additional photos from the other side to help me recreate pieces from the scan. However, parts of the sideart on the other side are behind the coin door. The photos helped me with most of the artwork so now I am only missing a few snippets of a good side of sideart to help me put everything back together.
Here are a couple artwork details to give you an idea;
A detail of the football player's hand;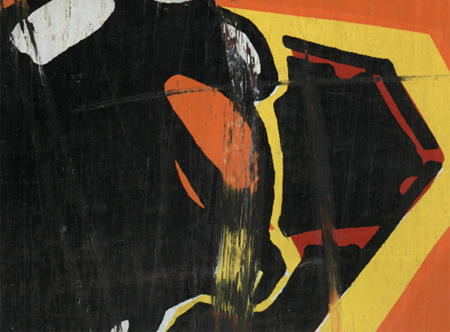 A detail of the foot and spike.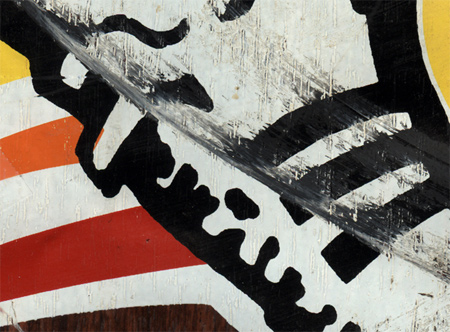 I wouldn't even think of guessing how the artwork in these areas that have been scuffed should look. I got the detail for the foot taken care of, but I still need a good, straight on photo of the hand, or even better yet, if you have a scanner and have this Atari game and are willing to take a scan that would be an amazing help.
Here are some similar arcade posts
If you enjoyed this post, please consider to leave a comment or subscribe to the feed and get future articles delivered to your feed reader.