I saw an eBay auction a week back or so for a Mr. Do! conversion that had some conversion artwork on the control panel that I hadn't seen before. I thought it was worth posting here at the very least to see if someone else has seen this control panel overlay artwork and has any information about it.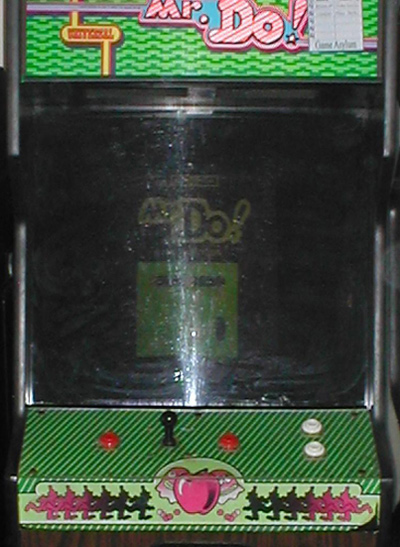 I know there were multiple companies making reproductions for Mr. Do! because it was such a popular game, but still in all of my searching to own an original Universal Mr. Do! I haven't ever seen this artwork. I don't like it as much as the true dedicated original, but I do like character artwork on my games and like this version with Mr. Do! himself bouncing his ball towards the monsters and the apple in the middle.
Does anyone know anything more about this overlay? Was this Mr. Do! artwork made by Willis? Maybe this artwork actually went with one of these Mr. Do! marquees from a conversion kit? (I have seen the overlay that goes with the red Mr. Do! marquee. I also own the fourth one down)
Update Sept. 9, 2008
The new owner of this Mr. Do! conversion machine came forward on the Klov forums. Currently the game is in Ashville, New York, I don't remember where the auction originated but I would assume the Mr. Do! was close. Here's the link to the short Mr. Do! overlay topic on Klov.
The new owner looks like a new collector based on the number of posts to the arcade forums, who knows, maybe he'll commission to have the artwork reproduced.
Here are some similar arcade posts
If you enjoyed this post, please consider to leave a comment or subscribe to the feed and get future articles delivered to your feed reader.