I didn't think that the artwork would arrive so soon, but the Pengo sideart arrived on my doorstep this afternoon. Hans came across these two pieces of NOS right side Pengo artwork in Chicago and posted about them on Klov a couple days back. I was lucky enough to get a hold of them. (Warning 😉 token canned food NOS arcade artwork photo ahead)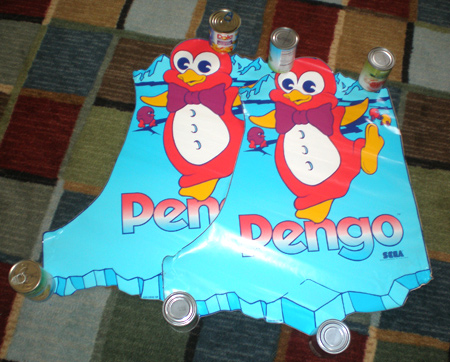 And the original photo Hans posted on Klov.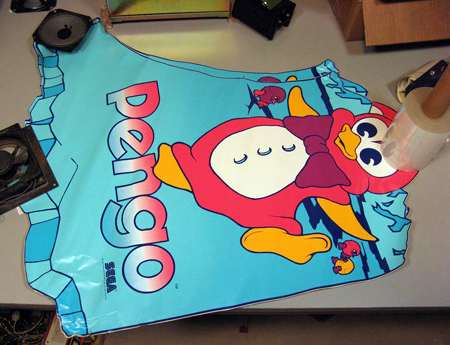 Amazing color on NOS sideart
I am not dillusional to think my Pengo is anywhere near as great as Richard Ford's NIB Pengo, or even some others out there. I have some small bolt holes on one side of the cabinet, and some small dings, but overall, my Pengo sideart has no tears or large missing pieces.
It is pretty amazing though to hold an original NOS piece of artwork up to your old classic cabinet and realize how much dingy yellowing takes place. I especially noticed it now on the whites of Pengo's eyes and his belly. The yellows on Pengo's feet and hands are a little more muddled, not nearly as vibrant as the original artwork.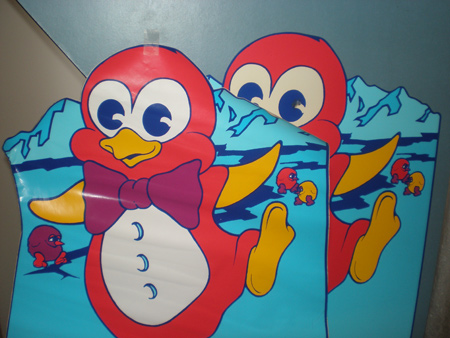 In my mind, I think it was really important for me to acquire this artwork. I can now better color match the Pengo sideart for the reproductions. In theory, if I had colored matched off of my cabinet the colors would have been a touch in-accurate. But I can only say that now that I have this other option.
Strange that there were only two pieces of right side Pengo sideart. Maybe an order with the intention of getting the other sides and 'maybe' using them someday? Or maybe the operator had two Pengo's with the same side exposed that had kids rip the decal sticker off?
Collecting arcade game artwork
I think the arcade thread on klov, there was a mention of 'giving' the artwork to me. I don't know that I would accept a gift, even though that might be an odd situation. In this case, we really did more of a trade / barter of services. But Hans is a salesman, and understands better than me how people and business work. I want to meet more collectors like him.
This Pengo sideart is my first NOS piece of artwork. I am sure condition and storage on some of this artwork, damage to the backing is common. Operators never had future collecting in mind.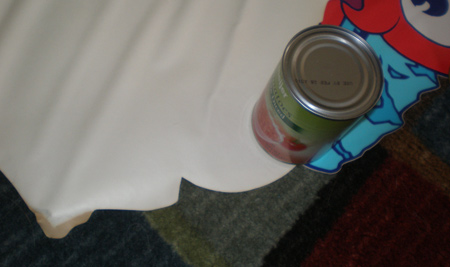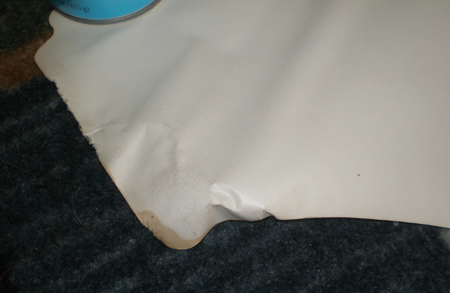 I am an honest type of guy, and don't mind admitting that I have never been to a true 'arcade'. When I was older in the 90's I got to go to a couple but I don't have all of those classic arcade game memories to help me recreate a retro environment in my house. I don't collect arcade game artwork really, but I feel very passionate about my three favorite, in my mind semi rare good condition complete games – opinions will vary. (Pengo, Mr. Do!, Jr. Pac-man)
I try to let other collectors know that the Major Havocs, the Donkey Kongs and the other rare grail games / super popular game that bring money hold little interest to me. If there is a really rare, popular game you are looking for, and we are good friends and contacts, if I ever come across your game of interest I am going to sell you that it before I try to list it for some huge profit on eBay. I don't collect just to 'have' something and brag to others. Because this is my mentality, where I place my values I would hope my friends would do the same for me in a case similar to this NOS Pengo artwork. But alas, that isn't the case. I had one friend that I don't even know that well send me the topic before I saw it on Klov. The beauty of a true network is that I already knew Hans had the art before that information hit Klov, but either way I truly appreciated the gesture. You've got a PM. Thank you, I won't forget that.
Here are some similar arcade posts
If you enjoyed this post, please consider to leave a comment or subscribe to the feed and get future articles delivered to your feed reader.