Another update from Anthony at QuarterArcade.com on the arcade game warehouse discovery in PA. We know he got a large quantity of NOS (New Old Stock – Unused old arcade artwork) in the warehouse buy and today we have a more comprehensive list with some photos. The tip of the iceberg, take a look at this photo below showing the rolls of new sideart, I can see Tempest (4th Lft), Eagle, Black Widow (5th rt) and Mylstar (4th rt). Click through the jump to read a more comprehensive list of the game artwork and buying details.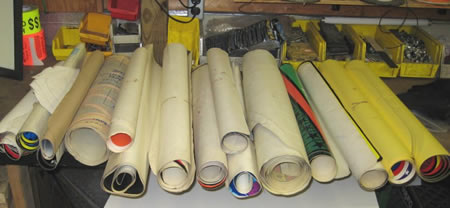 I didn't get any takers on identifying the pinballs machines in the warehouse raid photos, but I am hoping for different results this time. Show off your arcade expertise and knowledge, please help me identify some of the rolled up arcade sideart on the photo of the table. Just for fun, because we all like to see warehouse finds, but not all of us will be able to afford the artwork. Leave a comment
The NOS arcade artwork photo gallery
I have made up a photo gallery of the NOS arcade artwork (click on the photo above to enter the NOS artwork gallery), but here is a list of the overlays, marquees and the sideart. Not listed, but worth a mention, there is a bunch of Willis artwork and some duplicates of these overlays as well. Everything that will be sold will be listed on eBay this Saturday, so check out QuarterArcade.com's eBay webstore for more information. The Taito artwork pieces won't be for sale, to the victor go the spoils and all that.
NOS arcade game control panel overlays
Taito KRAM
Taito Alpine Ski
UPL Carnival
Taito Jungle Hunt
Taito Grand Champion
Taito Wild Western
Centuri Gyruss
Taito Zoo Keeper
Atari Asteroids Mini
Atari Xevious
Gottlieb Mad Planets
Williams Bubbles
4 Atari Tempest Marquees
One note, the one Tempest marquee is different. It has a textured finished where the others are all smooth, which is what the Tempest uprights generally had.
NOS arcade game control panel overlays
Mario Bros Sideart
Popeye Sideart
Phoenix Sideart
Mylstar Sideart
Black Widow Sideart
Pengo Sideart (Alternate)
Eagle Sideart
Star Trek Upright Sideart
Tempest Sideart
Astro Fighter Sideart
Data East Sideart
Ripoff Sideart
Intrepid Sideart
Krull Sideart
Pleiades Sideart
Congo Bongo Sideart
Tutankham Sword Sideart (one piece only)
Anthony has been selling arcade games and parts for 12 plus years and has never personally seen an NOS Kram CPO or Carnival CPO for sale! Most of the NOS sideart is difficult at best to find as well (Eagle, Astro Fighter, Mario Bros, Rip Off, Pleiades, Krull). But hey, the way things are going, NOS Black Widow sideart is going to be easy to acquire. It was just a month ago that Dewman on Klov got a set.
If you are new to collecting, you might want to snatch some of this artwork up. You'll never know when you'll need it, you may never see it for sale again, and nothing beats NOS artwork in terms of value. You might be able to find reproductions somewhere else, but it just isn't the same, and hey, the new stuff doesn't have that sweet sweet rat poop and mildew aroma.
You might even think about buying some of this artwork to scan and reproduce so that others can share in the action. If you are interested, contact me or Rich at This Old Game.
Word on rare NOS arcade artwork travels
My guess is that, everything really is for sale, everything has a price. But just know that there are offers upwards of $200 coming in for the Taito artwork that isn't 'for sale'. eBay could drive the prices higher. Just look at the typical market value for a Computer Space ($8,000) and what the final price was for two different Computer Space's on eBay this week – ($10,100.01 and $11,1360). Just take this all into consideration if you are going to make an offer, despite my best efforts to discourage you otherwise 😉
I will try to update this post with final eBay prices for the artwork. If you snag a piece, come back here and brag a little bit, you got a rare find. Thanks to Jeff and Chris, as well as Anthony's time, in helping me identify all of the control panel overlay artwork.
~Update May 26th, 2008 I added in the photos of the different pieces of arcade cabinet sideart to the above Picasa photo album that are listed to date on eBay, so make sure to check that out if you find this post after the auctions have ended. Here's a topic where some collectors are talking about the Tempest cabaret full sideart instead of the boring woodgrain that was in this warehouse buy.
Stay tuned to Rotheblog.com for more updates on QuarterArcade.com's warehouse bulk arcade game buy.

Anthony Pietrak of QuarterArcade.com is a well known collector, and vendor of arcade games for the casual gamer at home. Interesting in purchasing the arcade games / parts listed here today? Your best bet is to check the new arcade arrivals section or call Anthony directly at (610) 287-3260 (PA).
Here are some similar arcade posts
If you enjoyed this post, please consider to leave a comment or subscribe to the feed and get future articles delivered to your feed reader.