Anthony Pietrak of QuarterArcade.com just completed a bulk buy from a newly discovered warehouse of classic arcade games. This photo is a teaser of what lies within, nearly 100 games in all, the largest buy he has ever made.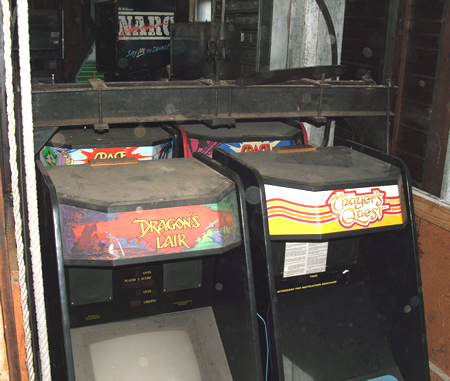 Anthony doesn't have a comprehensive list just yet, but there are a good number of classic arcades, some NOS artwork, some pinballs, a ton of parts and other good stuff. Anthony will be swamped cataloging, taking photos and listing these games, so the idea is that Rotheblog will slowly spotlight games, parts and artwork as they are ready to be listed on QuarterArcade.com. All of the games will be for sale, at prices to be determined after condition is evaluated.
But trust me, this isn't going to be like past QuarterArcade.com warehouse buys or bulk sales where the games stay on location and are sold on the cheap. What does that say about this warehouse find? There is quite a density of original arcade classics in this lot and that they are in good condition. We can't see bottoms of the cabinets from the photo but I am going to make an assumption that, although the new owner used the word 'neglected' when describing this warehouse, the space is still usable and the climate may not have destroyed the cabinets.
The breakdown of the games goes like this – 45 arcade / video games, 25 pinballs, 6 jukeboxes and a few mechanical games from the 1950's through 1990. Wow! The potentially new hobbyists might be asking, "How do collectors or arcade vendors come across bulk deals like this?" Being well known through the community and being connected, having a great online presence (Quarter Arcade.com and GGDB.com) and throw in some local advertising on the East Coast as well I'm sure and you have a recipe for great tales. In this case, it was an email out of the blue, with a story that most collectors assume can't still be possible today. Most think, there aren't any warehouse caches left! Think again, maybe not many, but they do exist.
How many arcades / pinballs are there?
An individual buys a warehouse and there are 100 games inside, what does he do? The games as a bulk sale are worth up to 100-200 a piece, which totals around 10-20 grand, and the building depending on location is worth 500,000 to 1 million dollars. The individual ditches the games as fast as he can for whatever he can get for them. The original operator had some interesting taste in what games to put on location seeing as the tip of the iceburg shows four laser disc games, Thayer's Quest, Dragon's Lair and two artwork versions of Space Ace.
I know everyone reading this will be foaming at the mouth for more. Hopefully we'll be able to deliver.

Anthony Pietrak of QuarterArcade.com is a well known collector, and vendor of arcade games for the casual gamer at home. Interesting in purchasing the arcade games / parts listed here today? Your best bet is to check the new arcade arrivals section or call Anthony directly at (610) 287-3260 (PA).
Here are some similar arcade posts
If you enjoyed this post, please consider to leave a comment or subscribe to the feed and get future articles delivered to your feed reader.