Last week Rotheblog was lucky enough to break the news about QuarterArcade.com's Warehouse find in PA filled with 100 plus arcade games and pinball machines. Today I've got an update showing the inside of the warehouse with 12 photos of the pinball machines. I need some help identifying them, so please, leave a comment.
Schwenksville, PA Pinball Machines
I predicted that Anthony bought up this lot of games with the intention of fixing up and selling every last one of them, but I was wrong about the pinballs. Just like past bulk game buys, he offered up the warehouse pins first for sale to RGP and to other wholesalers to buy on location, saving a lot of space, time and probably some money. If you click on the photo below you'll enter the photo gallery (only 6 photos). I was able to identify some of the more obvious pieces, but I need your help. Please leave a comment and help me identify all of the pinballs in the photos for the ones that I am missing or have incorrect. (Please forgive me that I don't know my pinballs as well as I should.)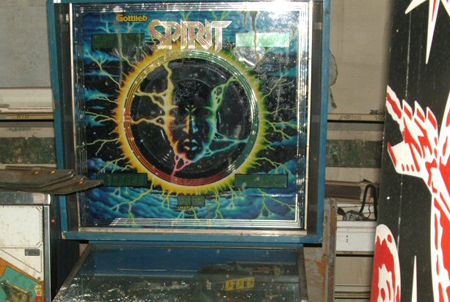 As I was referencing the different machines on the Pinball Database, I realized what a diverse set of machines were in this warehouse. Some rare pinballs dating back as early as the 40's with few photos on IPBD (Big Chief) to Gottlieb The Spirit, a high in demand machine – just over 1000 units ever made, to Dirty Harry which I believe was probably the most recent pinball of the bunch being released in 1995. So, these games have only been sitting around for 10 years. I thought in my original warehouse post that these arcade games would have been at least 15-20 years based on the limited information about the density of the classics there-in.
Some of the pinball machines did get a little wet, but the frequency was low so let's hope that the arcades that got wet are also few and far between. These photos show a sneak peak of some of those 65+ arcade games. Here are the ones I spotted, did I miss any?
Atari Asteroids
Star Trek Cockpit
Ms. Pac-man Cabaret
Cocktail – Unknown, please help me identify
The list of pinballs for sale
Not to repeat too much information, here is the list of nearly 40 pinball machines from the warehouse in Schwenksville, PA.
Update: Most of these pinballs are now sold whether they are marked as such below or not. If you are interested in a particular machine, leave a comment here instead of emailing Anthony and overloading him with requests. He can check your comments and get in touch with you if the machine is still for sale.
Update September 6th, 2008
All of these pinball machines are sold. Contact QuarterArcade.com directly if you are looking for any game in particular.
Big Chief (Bally, 1940), $900
Black Hole, $650
Black Knight, $900 (nice backglass)
Black Knight, SOLD
Buccaneer $450
Comet, $350 (got wet, may be a parts machine, not awful, but some
swelling)
Cyclone, SOLD
Dirty Harry, $1,000
Drop A Card, $500
Eight Ball, SOLD
Eight Ball Deluxe, SOLD
Elivira, SOLD
Fashion Show, $400
Fire Power, $350
Fire Power, $350
Fire!, $800
Getaway, $1,000
Gilligan's Island,$1,000
Gold Wings, $300
Harley Davidson, $1,200
High Speed, SOLD
Hollywood Heat, $250
Pinbot, $600 – missing main board
Playboy (Bally), SOLD
Playboy (Bally), SOLD
Playboy (Data East), SOLD
Silverball Mania, SOLD
Southern Belle, $800
Star Trek (original), $400
Star Trek (original), $200 (parts machine? backglass flaking badly, cabinet rough, but playfield nice)
Strange Science, $300 (got wet, cabinet is puffy)
Taxi, SOLD
Xenon, $600
Cross Town – Best Offer
Earthshaker – SOLD
Lovely Lucy – Best Offer
Mystic Marvel – Best Offer
Spirit – SOLD
In listed prices, this is over $21,000 in pinball game sales. That's if Anthony got list price, and that isn't including the games without a price including the Gottlieb Spirit which could have gone for as much as $5,000. I would guess that revenue could have covered the total cost of the buy with the pinball machines alone, let alone the arcade games still left to sell!
Stay tuned to Rotheblog.com for more updates on QuarterArcade.com's warehouse bulk arcade game buy.

Anthony Pietrak of QuarterArcade.com is a well known collector, and vendor of arcade games for the casual gamer at home. Interesting in purchasing the arcade games / parts listed here today? Your best bet is to check the new arcade arrivals section or call Anthony directly at (610) 287-3260 (PA).
Here are some similar arcade posts
If you enjoyed this post, please consider to leave a comment or subscribe to the feed and get future articles delivered to your feed reader.