Just a short, exciting note tonight. According to Google Analytics, Rotheblog has hit 10,000 unique visitors over the past month! I was looking to hit this first benchmark around the end of May 2008, but I exceeded my own projections.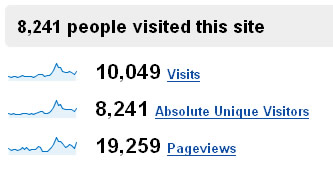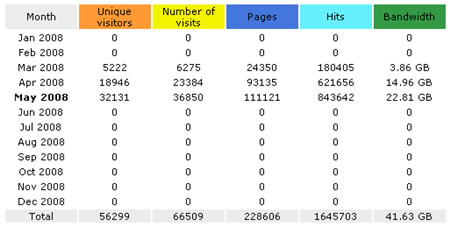 Web stats are addicting, and highly in-accurate. Reading unique IP addresses on varying computer and networks with different cookie settings and all other sort of factors doesn't seem like much of a science. I tend to trust Google's metrics the most, but the important thing is to track increases in growth. Google actually shows that my 'absolute' unique visitors is somewhere around 8,000, and according to Awstats, I have had over 32,000 unique visitors at Rotheblog.com through the middle of this month. Quite a disparity. All I am concerned with are those loyal visitors who subscribe to my arcade blog feed and continually come back. I will continue to strive to provide good useful content just for you.
I just want to thank those loyal viewers and contributors out there who help this arcade game blog continually grow. I am not done, and the next plateau is obviously 20,000 viewers which is still a drop in the hat when you consider some of the traffic stats for the Technorati top 100.
Things have changed for me as of today and I hope to have more time to write longer, more helpful articles about arcade game collecting and restoration. Please continue to come back and tell your friends about this blog through word of mouth, or some reciprocal linking. And please, if you can contribute some great content to share with all of the other collectors out there, please email me.
Here are some similar arcade posts
If you enjoyed this post, please consider to leave a comment or subscribe to the feed and get future articles delivered to your feed reader.