Well, maybe not quite back from the dead, but bringing back the artwork from oblivion. Rich at This Old Game sent me photos of his brand new Journey that he picked up Seattle. So many collectors covet this game, but there are only a few who are willing to pay the extra price when it isn't local and make the sacrifice to actual add one to their arcade game collection. Rich went the extra mile, all the way to Seattle for this Craigslist find, but his pickup was hardly the HUO Journey that ZFCamaro picked up late last year. This Journey has black acrylic painted sides and needed some TLC. Fortunately, Rich is just the guy to give this machine some lovin.
Journey Trivia
A little fun trivia about Journey that maybe you didn't know. According to Klov, Journey was the first arcade game to incorporate digitized photos into the gameplay. But this 'cutting edge' technology wasn't originally intended for Steven Perry's glorious locks but instead for another game where the the cabinet could take photos of players for the high score list. But that game failed at it's testing location when a player flashed the camera. Ah, good to know that as much as we change as a culture, so many things stay the same, and here we thought 'Flash Mountain' was an original idea.
Back to restoring the Journey
Who better than a screen printer who makes faithful, quality, arcade artwork reproductions to bring back a classic from artwork annihilation? The last inexperienced owner of the Journey had tried some modes of removing the paint, carefully placing strips of tape and pulling up the black paint. I was surprised this method worked at all, but here is what Rich started with;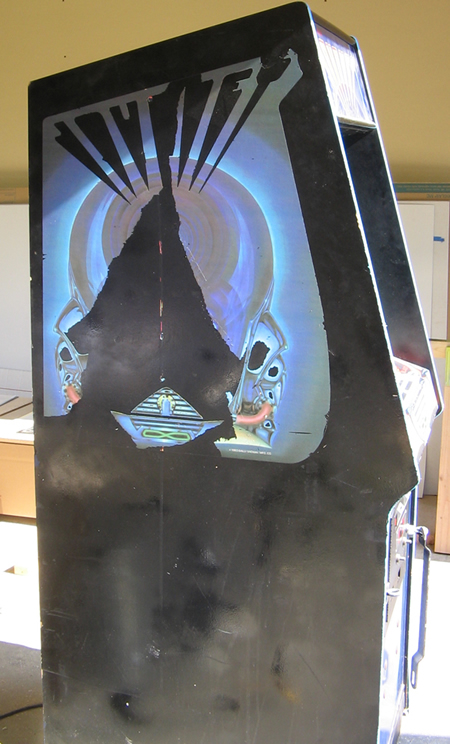 Like I've experienced on Atari games, paint will stick greater to some areas of artwork and not to others. On the Atari games I've worked on, the most difficult areas to work with were the plain white vinyl, and on the screened colored inks the paint lifted right off. Similar in vein for Rich, the yellow printed Journey lettering needed a little more attention.
Newbie note: Before we start, unless you want to shutter and shake like Raymond Babbitt after a box of glazed, seriously check and make sure you are working in a well ventilated area. You won't be killing those Friday night beer brain cells, these are the important ones, and you don't want to impair your decision making skills on your prized Journey acquisition. Oh yeah, and test some of these removers on a small, non noticeable section of your cabinet first to make sure you aren't adding any new peep holes through the wood, or something worse.
Oh, and don't forget to put on 'Frontiers'. The matching artwork on the Journey CD to the cabinet will bring good luck and will make a nice soundtrack if you pass out on the cement floor.
Strip that Journey cabinet, strip it good
First, soak some plush SCOTT® Shop Towels with Motsenbocker's Liftoff 4 (Graffiti Remover). Why not apply the graffiti remover directly to the cabinet you ask? Well, when you want to remove paint with the game standing upright, gravity is like an being on a date and seeing an ex-girlfriend at a dinner party and you got caught staring. The liquid will run into places you don't intend, and like the ex, do damage you can't predict. Plus, trapping those fumes right up against the artwork help lift the paint off even more.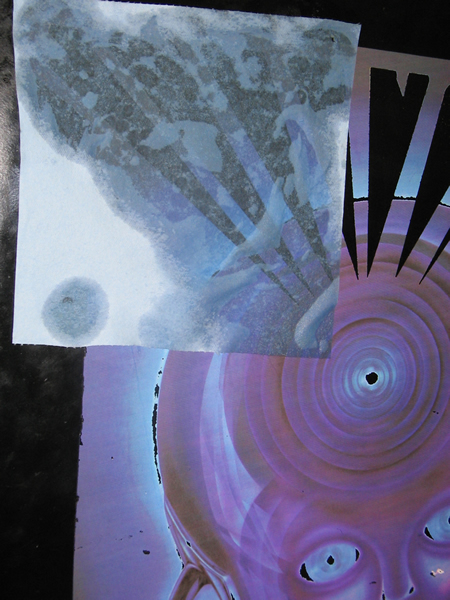 After 5-10 minutes, you can see the results to the cabinet.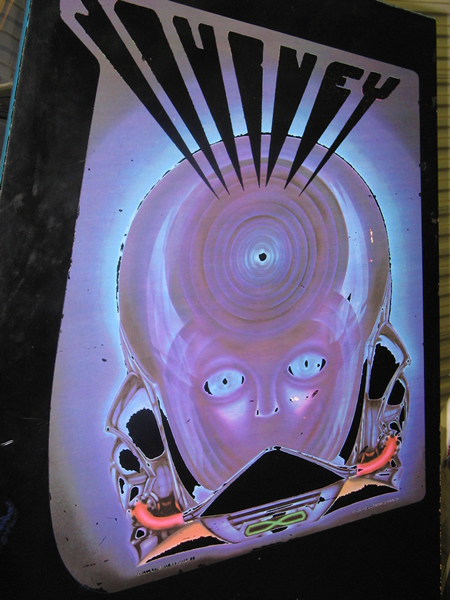 Most of the bubbled black paint brushes away, but a couple applications may be needed to remove every last piece.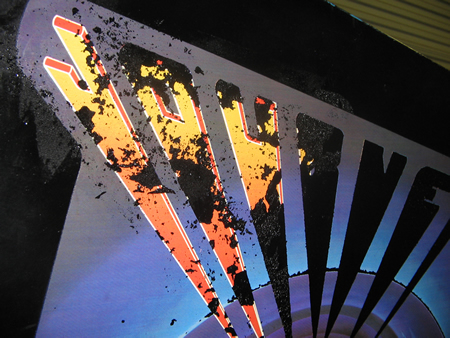 Remember, you are working with a strong cleaning agent, and your vinyl Journey artwork has a durability threshold, so make sure to be careful when wiping off the paint because the remover will soften that vinyl increasing your chances of scratching it or trashing it completely.
Rinse and repeat until you remove all of the paint from the Journey vinyl sideart;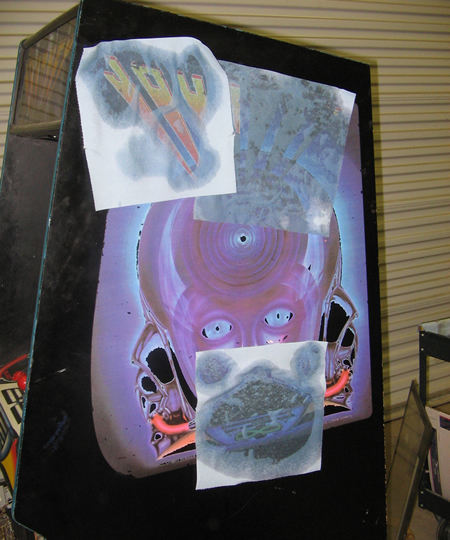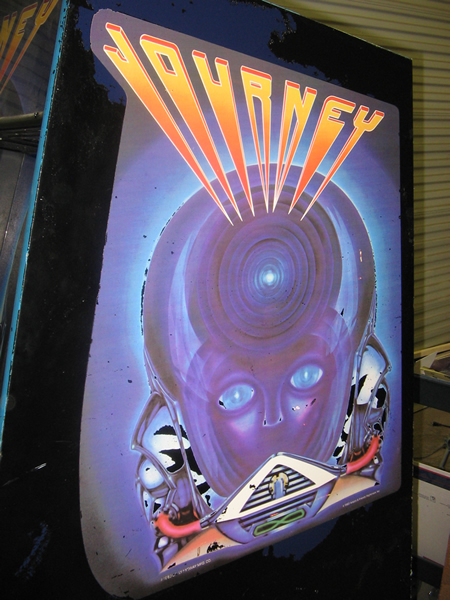 Once you're done you can use Naptha for the final touches.
Naptha is an awesome multipurpose cleaner and can be used on pretty much anything including glass, metal, and plexi and is perfect for removing old adhesives. Just apply, wipe off the remaining residues and let the remainder evaporate. Naptha will neutralize the graffiti remover, break down any remaining enamel spray paint and will clean the vinyl surface without attacking your screened Journey sideart. Remember though, that vinyl artwork is soft, so make sure to have a new Scott's towel and watch any hard edges that might leave a scratch.
The photos here just show the Motsenbocker / Naptha technique on the Journey sideart, but this can also be used to remove spray paint from any cabinet without hurting the original paint job underneath.
What's left on this Journey restoration?
Rich is going to probably have the Journey sideart re-printed as a high quality piece of inkjet artwork, because you can see that the artwork just isn't as brilliant and rich as it once was. He'll also remove the rest of the black paint from the sides of the cabinet. Overall, a great addition to the collection and not a lot of work to bring an old less desireable Journey back from 'the dead'.
How rare is a Journey arcade game?
I couldn't find any speculative numbers in my research on production numbers, but I know this arcade game is highly sought. Does anyone have any information / links on production numbers for Bally's Journey? Here is a thread on klov asking about Journey production numbers.
A great arcade submitted story
I love stories like this, spotlighting simple things that any arcade collector can do in a specific situation to save a game and bring it back to prominence. Have a story of your own that you'd like to submit? Email me at rothecreations at gmail dot com, visit my contact page to send me a message, or visit the 'Submit A Story' page to get even more ideas for types of arcade related information you can submit to Rotheblog.
Here are some similar arcade posts
If you enjoyed this post, please consider to leave a comment or subscribe to the feed and get future articles delivered to your feed reader.