There have been a couple of auctions on eBay over the past two weeks that have gotten arcade game collectors attention. There were of course the two different classic Atari Computer Space games that both went for over $10,000, and there were also the NOS (new old stock) Bally Mappy and Atari Food Fight bezels that were found in an old operator's warehouse in California. The final price of the Mappy bezel was $271.55 ($255+$16.55 shipping), and the Atari Food Fight was $277.05 ($260.55+$16.55 Shipping)! Wow! How can one brand new, mint condition piece of any arcade game bring so much coin? Well, let's look at it a little bit.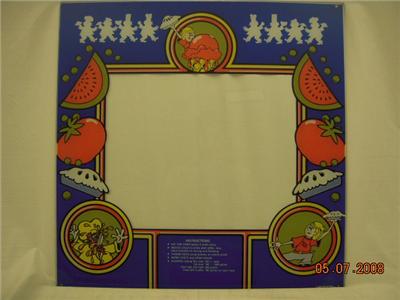 Standard rate of appreciation
It can be hard as a new arcade game enthusiast to keep up with all of the information. If you played a lot of the games in an arcade growing up, you have a good head start because you are familiar with the history. But that doesn't mean you have a good gauge for the actual value and rarity of the parts.
You won't find any of the artwork reproduction shops online printing new bezels for any game on glass. Why? Because the base cost on a blank piece of tempered glass is really high. A quote from Darin at Phoenix Arcade back in 2002 put the cost of glass alone for arcade bezels at around $100. Add the artwork prep and actual printing on top of that, and don't forget the shipping, plus today's gas woes at $4.00 a gallon, and you could easily be looking at $175-$200 for a glass reproduction arcade bezel.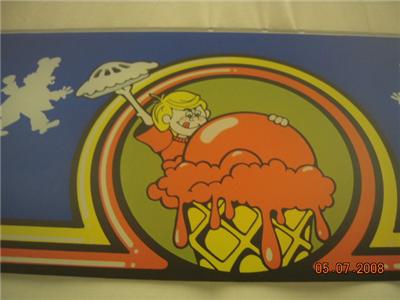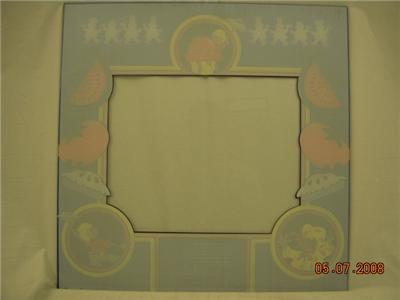 Let's look directly at the Food Fight bezel. Food Fight is a hard to come by game with approximately 500 units ever made. Parts are even harder to find. If reproductions were ever done today with the films that Scott Evans must have, they would be done on plexi so the demand is not similar to a glass marquee which could more feasible to be reproduced and drive the market demand lower. Hell, good old Brendon Ziedler was willing to pay $200 for an NOS Food Fight control panel overlay in 1999. (Today there are just a handful of those Food Fight control panels overlays left at $87 shipped.)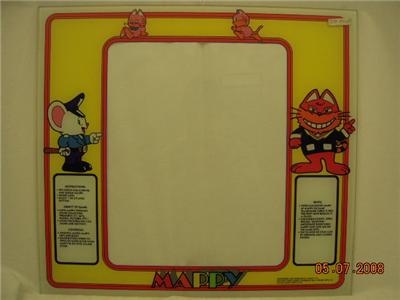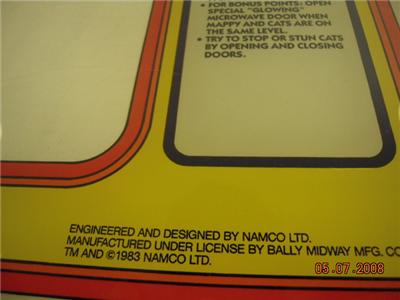 The factors affecting the value of a Food Fight bezel
Ok, little to no possibility of a glass reproduction, high costs, and low availability with no record of an NOS Food Fight bezel being sold through RGVAC. It is hard to assess the value of a speculative collectible item. But let's take a conservative stab at it.
Standard rate of depreciation is 7 years. So, on your electronics, your cars (higher rate) and corporate assets like machinery would lose value at a rate of 14% per year. We all know that a rate of 14% a year would be unheard of unless 60 of the Food Fight arcade machines were completely destroyed each year. Plus, 14% appreciation rate for a brand new glass Food Fight bezel starting in 1983 when the game was released would make the value astronomical. At that rate and a value of $200 in 1999 would put a value for a Food Fight bezel at $452 today.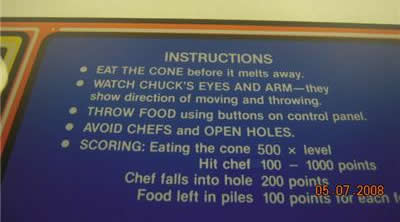 Arguably, the peak of arcade reproductions would have been somewhere between 2001-2004, so we have to take that into consideration and we also have to entertain the idea that, although eBay isn't completely accurate, it does have the widest audience so we can't completely discount the final price on any arcade game part.
Let's take half of the average depreciation value at 7%, and use the low potential sell price of the Food Fight bezel in 1999 of $200. That would put the value today at that rate somewhere around $325. I think that is just a touch too high, but I think that probably isn't too far off the mark.
A final price of nearly $280 for a brand new glass (NOS) Food Fight bezel seems a little low. When directly compared to a $200 a piece price for a brand new run of reproductions, that price seems especially low. But like I said, most of those arcade game collectors asking about an NOS Food Fight bezel in the RGVAC groups were in 2002-2003. It is a good possibility they no longer have their machines, got out of the hobby, or found an alternative.
What I think the Food Fight bezel is actually worth
My estimate is that the Food Fight Bezel, sold to the right buyer, could be potentially worth as much as $300. If you figure almost $20 in shipping, maybe we could achieve the $325 mark.
But this method / rate of appreciate wouldn't always work. Food Fight was an easy one because of the high demand. Gauging what the actual value of the Mappy bezel would be a entirely different guess. I think that the final price of Mappy bezel was slightly higher because of the circumstances and other items listed (Food Fight for example) from the same warehouse. But I would guess that the resale value of the Mappy bezel is probably right around $250.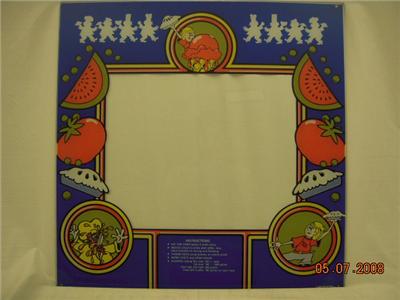 Richard Ford is a high end arcade art collector, and loves that game. He bid $250, but the demand isn't quite as high in general for this arcade classic. If the winner had to resell, I am not positive that he would get his full $270 back, but that isn't the point. For a lot of collectors, having a one of a kind item that may never be for sale again is priceless, and that is all that matters.
Here are some similar arcade posts
If you enjoyed this post, please consider to leave a comment or subscribe to the feed and get future articles delivered to your feed reader.