Pinball machines come up for sale more frequently on Indianapolis Craigslist than arcade games, but rarely do pinballs sell for $100. (Except for the Aspen pinball from last week.)
One mile south of marion county fair grounds.everthing goes couch chairs tables tools kenwood stero eqp. camping eqp boating eqp full size pinball nice first 100.00 gets it. a little bit of everthing. Calls wellcome.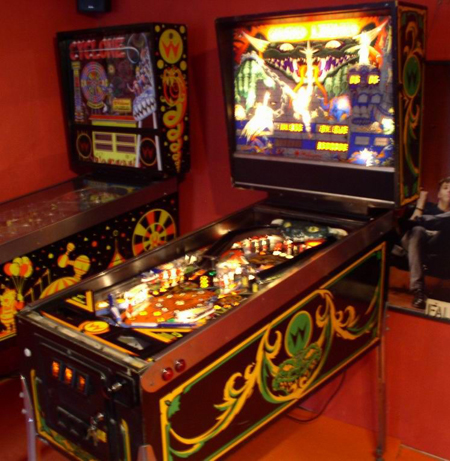 I was the second to call on the William's Grand Lizard (Some guy in Kentucky but he was out of the running – photo from the pinball database), which was amazing since the Craiglist ad was online for about an hour by the time I found it. The Grand Lizard pinball had some issues with one of the flippers, but that was the only problem according to the seller and this pinball machine had been in his home for 12 years or so.
This was Tuesday night, and I had finals for my MBA courses, so I made arrangements to call Wednesday night at 8 to go out and take a look and see if this Grand Lizard was as nice as the owner claimed. But I had some bad karma. For the first time ever, my wife said that this arcade item wasn't coming in our house because of the theme (she hates snakes).
On Wednesday I called on the pinball in Wanamaker, and got no answer. I got a call back a half hour later and the owner said, "My son sold the pinball (Grand Lizard) earlier in the afternoon. Thanks." I was seriously bummed but that is how things happen sometimes.
Timing and persistence = success on Craigslist
I have had collectors tell me that "people have screwed them on arcade game deals" for this reason or that reason. From their definitions, I think this missed Craigslist pinball deal may fall into their definition of being 'screwed'. I had first dibs, and should have gotten the pinball. But on the flip side, I know there are also collectors who immediately take their truck and start driving around frantically calling and re-calling sellers. They are that rabid. But to me, saying you got "screwed" is just as crazy, as if your life revolves around getting that arcade deal. I get offended actually by anyone who is that crazy about a couple hundred of bucks, makes me wonder where their priorities are.
I have a more organic outlook – 'What will be, will be", but I don't make rash buying decisions. Granted, it is one thing if you find a Cosmic Chasm, Agent X original, Major Havoc, or some other extremely rare game for a steal and I could empathize with someone going to great lengths to acquire one of those classics. But, to get so worked up about a savings of $300-$400 on any one arcade machine surely is not me.
I have a feeling if this was a Universal Mr. Do in the Indianapolis area, I would have felt different. I also have a feeling that I may not ever see an almost working pinball machine in the Indianapolis area sell for $100 again.
Who agrees with me that some people get too worked up over 'good' arcade game buys? Or do you not feel the same?
Update – July 11, 2008
Looks like someone on the RGP (Pinball Newsgroup) got the Grand Lizard. Sounds like the situation was that the guy got so many calls that he upped his original price. A guy with the handle of 'msmiller1970' got the game, I don't know whether he is a local pin collector in Indianapolis or not. Here is the original thread on RGP about the $100 Grand Lizard pinball machine.
Here are some similar arcade posts
If you enjoyed this post, please consider to leave a comment or subscribe to the feed and get future articles delivered to your feed reader.