Soon after I posted about developing some arcade blog wordpress themes, Rich at This Old Game had expressed some interest in having me do a design for his Donkey Kong 2 artwork package page. Today, I quickly designed and coded that page from scratch and it is now online at Thisoldgame.com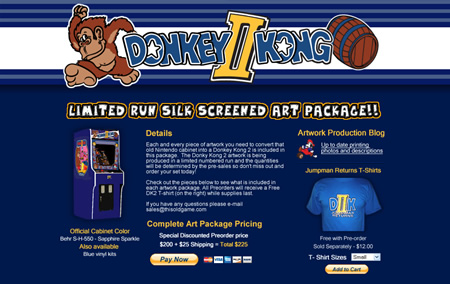 Rich has been great about getting me content in the past, and sending me some arcade goodies in the mail. Plus, every arcade game collector wants him to focus on what he does best, the screen printing of artwork, and produce as much product as possible. I was happy to help him redesign a page for his Donkey Kong 2 artwork package because it isn't always easy to do everything – know great HTML, lay things out just the way you want, or really to have time to have a eye pleasing design.
Head over and check it out if you get a chance, I think you'll like it. I would think some aspects about this web page design could be converted to a Donkey Kong 2 WordPress theme. But from the impression I got, more people would prefer a general theme based one company's library of games, or a theme based on a type of game so a website wasn't focused around one classic. Leave a comment with your thoughts.
Here are some similar arcade posts
If you enjoyed this post, please consider to leave a comment or subscribe to the feed and get future articles delivered to your feed reader.