Hot day outside. Good day to sit in the basement and work on vector arcade game artwork. Simple and easy, not like the Pengo control panel artwork separations, the color separations for the Mappy kickplate artwork were quick and to the point.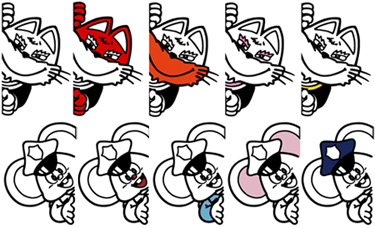 Here are some small thumbnails showing the separations. Kind of hard to see at this size, but I think everyone gets the idea by now for how color separations work. I also leave the black turned on when showing the individual colors just for illustration purposes.
For sure a simple set of character artwork for the Mappy kickplate, there sure are a lot of colors. Yellow, red, pink, light blue, and dark blue, the orange will probably be achieved using a mix of the red and yellow screens. I imagine this will be a simple job and these Mappy kickplate artwork pieces might be ready in a month or so.
Here are some similar arcade posts
If you enjoyed this post, please consider to leave a comment or subscribe to the feed and get future articles delivered to your feed reader.