I've been in one mind set for the last couple of days since I finished the Atari Football sideart and Mappy kickplate artwork, so today I just went ahead and did the color separations on the Pengo bezel artwork file.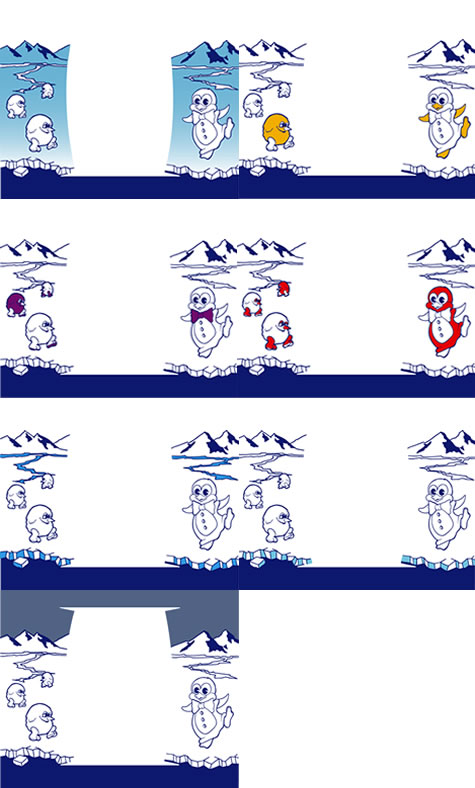 Here's a composite image of all of the separations. I don't know how many spot colors of blue will actually be used, more than likely at least three and possible one combination of the two colors can achieve the background grey / blue color behind the ice mountains. I also left the halftone dot gradient as it's own separation on the Pengo bezel so that later on that halftone can be matched in shades of grey for the film, which may or may not be part of the same blue film for the jagged ice edges at the bottom of the bezel artwork.
The Pengo bezel artwork is repro ready
This Pengo artwork that goes around the monitor isn't my favorite – it feels a lot like an after thought, like an adjustment of the sideart artwork to fit around the monitor. But I think that the demand to reproduce these bezels is just about as high as the sideart and both of those come a close second to the Pengo control panel overlays.
All that is left is for someone to fund a run of Pengo bezels. If and when someone steps up with some money to get the cpo's get reproduced I will gauge the interest from that run to see if it still makes sense to a run of Pengo cardboard bezels. If that is the case, I can go back to the original financier to see if they are interested in putting up money for the bezels as well.
It may make more economic sense for collectors to have an inkjet printed piece applied to a cardboard cutout, but I hope it doesn't come to that.
Here are some similar arcade posts
If you enjoyed this post, please consider to leave a comment or subscribe to the feed and get future articles delivered to your feed reader.