In the middle of April, a collector contacted me about a reproduction assignment involving control panels for Stern's classic arcade game Scramble. You might say, "Didn't Arcade Renovations already reproduce Scramble control panels?" They did. But he did some checking around and every indication told him that they hadn't been done, so I just went with the flow.
Stern Scramble Control Panel Progress 1
A contract job always comes before any other fun unpaid work, and I knew that I would be able to spend one weekend and get the control panel vectorized at the very least, if not color separated as well. The collector already had his own printer of choice and they were ready to go when I was.
The control panel was taken to a print shop and scanned for me, and the disk with the high resolution artwork arrived on May 2nd. Here is a thumbnail shot of that scan.

A small thumb, but you get the idea. This is pretty typical wear for the artwork on Stern's silkscreened metal control panels. Printed artwork on metail opens up the freedom for breaking that rectangular plane for composition a little more, but really hard to keep the printing in good condition.
Here is an image of my initial progress;

I got through a good portion of the control panel in my first pass. There were some details that I felt were a little strange, and some pieces of the artwork that were obscured because of scratches. Here are some detail shots of what I am talking about.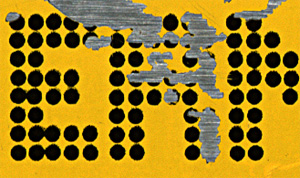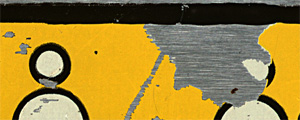 Parts where artwork was completely scratched off like on the Stern Logo dots and on the people by the player buttons;

Areas where I had difficulty seeing exactly where my artwork lines should be, like the outer left edge of the panel artwork that was flaking;

Or the black circle around the joystick which had all three problems, deep gouges on the arrows, flaking around the black circle and the original art was obscured because the original owner colored on the metal control panel with a black permanent marker to try to hide the flaking.
I was able to get some straight on photos from some other areas of less damaged Scramble control panels to get those portions of the artwork correct as I continue to finish up the vectors.
Scramble reproductions have already been done
We figured this out later on. QuarterArcade.com is still selling some inventory of Scramble control panels from the stock purchased from Arcade Renovations. In hopes of someone else not repeating our same mistake I have added the panels to my comprehensive list of past arcade reproduction artwork. Obviously, there really isn't a demand to finish this project. Check back for an update later this week, I will show the final artwork before we stopped working on the panels.
Here are some similar arcade posts
If you enjoyed this post, please consider to leave a comment or subscribe to the feed and get future articles delivered to your feed reader.