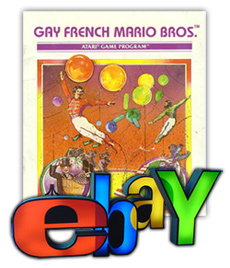 The results are in, the auctions have ended and the final results are in for the first round of the recently unearthed, unapplied arcade game artwork from the QuarterArcade.com warehouse raid. There were a handful of pieces that went for over $200! That price leaves some of us spinning, and others….well as gay as french Mario, trapeze and all.
Richard Ford was in the mix again proving that he will always set the standard for the value of NOS arcade game artwork. Check out some of the results after the jump.
Value of NOS arcade game artwork
Unlike a few random pieces of artwork here and there, a whole stash from an old warehouse can make a more accurate statement about potential worth. Excitement through cross promotion can get more potential collectors involved and make a commitment to a couple of pieces of artwork when there is more to choose from.
The highest bid was the Tempest cabaret sideart which came in at a whopping price of $271.00. Here are the results from the other eBay auctions for the warehouse artwork with the winner's profile.
$271.00 – Tempest Mini Cabaret Sideart Set – Richard Ford (roadrunner0001)
$256.00 – Atari Black Widow Original Sideart – Vectorcade
$227.51 – Gottlieb Krull Sideart Set – Richard Ford (roadrunner0001)
$203.51 – Cinematronics Arcade Rip Off Sideart – Richard Ford (roadrunner0001)
$165.50 – Sega Congo Bongo Sideart – Vectorcade
$129.01 – Atari Tempest Arcade Marquee Overlay – Richard Ford (roadrunner0001)
$127.50 – Phoenix Sideart Set Centuri – Vectorcade
$102.50 – Nintendo Mario Brothers Sideart – Richard Ford (roadrunner0001)
$89.00 – Sega Gremlin Astro Fighter Sideart – Richard Ford (roadrunner0001)
$67.00 – Centuri Pleiads Sideart – Richard Ford (roadrunner0001)
$39.00 – Eagle Centuri Sideart – Vectorcade
Looks like Richard Ford is still a little peeved that he got sniped earlier last month on the NOS Food Fight and Mappy bezels and wasn't going to let this artwork pass him by. Richard's tab comes in at $1345.53 and Vectorcade's total at $588. Adding $1933.53 (minus eBay and Paypal fees of course) to the total revenue that Anthony has taken in from the sales of the pinball machines from the warehouse bulk buy brings the total to a whopping $29,000. Pretty good pay day so far on some old 8 bit arcade games.
New warehouse arcade artwork listed on eBay
I see that some new artwork has been listed on the QuarterArcade.com eBay store. I have added those photos to the NOS arcade game artwork photo album, which includes Mylstar, Lost World Pinball, Star Trek and Xevious artwork. I see that another set, or maybe the Congo Bongo artwork from above has been listed or re-listed as well.
Who is Vectorcade? Does anyone know? Is that Nash (Ataricade) from Klov?
Update June 6, 2008
The Black Widow side art auction just ended, vectorcade won that as well. I adjusted the list and the totals accordingly.
Here are some similar arcade posts
If you enjoyed this post, please consider to leave a comment or subscribe to the feed and get future articles delivered to your feed reader.