Just a short update to the post I originally did announcing the QuarterArcade.com bulk warehouse arcade game buy in Schwenksville, PA, Anthony has released photos of the 5 laser disc arcade games from that lot. The original bulk buy teaser photo showed 4 of the 5 laser disc games, the complete list being Space Ace x2, Dragon's Lair, Thayer's Quest and Firefox (not pictured originally).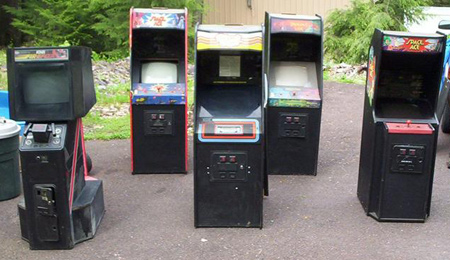 Anthony posted these arcade game photos on QuarterArcade.com last week Tuesday. If you missed the laser disc game post on RGVAC, you can see the all the games now if you click on the photo above to enter the photo gallery. Although I understand that at the time last Tuesday, only the Firefox and Thayer's Quest were still for sale. Firefox price was $650 and the Thayer's Quest was $1400. You might want to contact Anthony today if you are local and interested in purchasing either of these games.
Here are some similar arcade posts
If you enjoyed this post, please consider to leave a comment or subscribe to the feed and get future articles delivered to your feed reader.