Soon after the eBay auctions for the NOS arcade artwork from the PA warehouse ended there was a Klov thread asking which of the NOS arcade artwork pieces collectors would like to see reproduced. At least 6 said that they would be interested in buying a set of reproduction Ripoff sideart. This is interesting because back in 2002 Archer Maclean made inkjet reproductions of the Ripoff sideart, probably 20-30 pieces, and you would think that would have sucked up all demand. but it sounds like only a handful, some of which may have been used on his own machine and another set which may be in the hands of another collector, 2-3 sets and that is it.
However, the most interesting part of this is that when you do a general Google search you can't find any mention of Archer's Ripoff artwork. That got me investigating the 'why not', the science of indexing pdf's / Ionpool's website and I was left asking, why would Tom McClintock want to make it more difficult for a new collector to find the great resources at his website?
Photos of Archer's Ripoff Sideart
For quite some time from 2002-2004 Archer Maclean was quite active producing small runs of rare, obscure arcade artwork that may have never had reproductions made otherwise. This included Cinematronics Ripoff, here are some photos of the sideart from Tom McClintock's amazing arcade game resource website Ionpool.net.
These Ripoff reproduction are old news
The Ripoff sideart repros are not new information, and I try my best to walk a fine line of 'new' information about an old industry, original content, and publishing information that hopefully educates a new collector. Most old seasoned collectors remember when Archer was developing this Cinematronics artwork and when it went on sale. That is not the point. The point is, when you search in Google, why is it so hard to find mentions of the reproductions?
Here are some the Google searches I tried initially;
ripoff sideart
Ripoff artwork
cinematronics ripoff artwork
ripoff reproduction sideart
archers arcade art
Archer ripoff (this is funny in itself ;))
archer ripoff artwork
These are some of the searches I thought new collectors might try to use to find out information about past Ripoff reproduction artwork. Four pages deep and these attempts turned up little to nothing. The last searches obviously would only work if they knew who 'Archer' is, and in that case they would probably know enough to head over to the Ionpool website to find out more.
However, the fact that I had difficulty stumbling across Google's index of Archer's webpage for the Cinematronics Ripoff repros isn't all that surprising. Archer just used that page as a tool to display images of the artwork, but all of the text isn't exactly keyword rich. One photo caption reads 'flatended lo-res cut', regardless, the title of the page 'Rip off Reproduction sideart' agrees with the main text of the page 'Cinematronics Rip Off upright reproduction sideart', which should have been enough for Google to find the page. It would have helped if 'header' tags were used instead of 'bolding', but I digress.
I got to thinking about Archer's comprehensive artwork PDF, you know the one. It notes all of the arcade artwork he had started to reproduce and at what stage those repros were, but this information wasn't coming up in results either. I took a short jaunt into investigating why the .pdf might not be indexed by Google when the answer dawned on me. But the answer couldn't be correct. Could it?
Tom McClintock doesn't want Google indexing Ionpool?
I don't know Tom, so let me just preface this next comment with that information. Reading posts on RGVAC, it sounds like he is very knowledgeable and he manages his own server and hardly inept when it comes to technology. There were a couple of thread mentions of server upgrades and working on hard drives, so my guess is that Tom has enough apache / html knowledge that he posts all of the pages and maintains the website himself.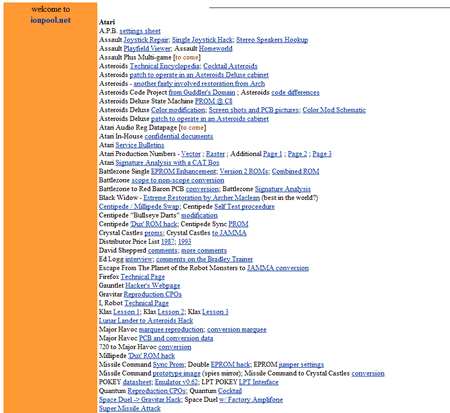 It is pretty easy to check out a website's wishes when it comes to search engine box indexing. Just type out 'robots.txt' at the root domain of any website. (http://www.ionpool.net/robots.txt). Robots.txt always has instructions for search engine indexing, and there is Ionpool's in plain english;
# Robots.txt file
# For domain: http://www.ionpool.net

# Disallow
User-agent: *
Disallow: /
User-agent: ia_archiver
Disallow: /
User-agent: Slurp
Disallow: /
The bolded command above tells all search engines to not index any of the webpages and files on the website. Tom could leave permissions open to specific files, but the jist is 'please don't index Ionpool'. But my question is, why? Ionpool is arguably the most interesting arcade game resource website out there, from rare machines and reproductions to arcade game warehouse raid photos and rom sets. Maybe the answer is in the last item, and the artwork. Maybe Tom doesn't want the site indexed because he is offering arcade game ROMs and Pac-man artwork zip files on his site. But why not put those items of sensitivity in their own directory, tell the search engines not to index those files, and link to them publicly only in the arcade game forums like RGVAC and Vectorlist? Or pass links to them to selected collectors through email?
Anyone want to take a guess?
Maybe you're a collector that has been around long enough to remember when Ionpool first started and you personally know Tom McClintock. I don't expect I will have any experienced collectors that know Tom actually leave a public comment on Rotheblog if there was actually a concerted reason why Ionpool was setup this way. Most of the really knowledgeable collectors aren't reading my website anyway as I am sure my information here is a little bit on the 'light reading' side. But maybe I am missing an obvious detail.
I know Archer included some notes specifically in his arcade artwork reproduction PDF about not wanting to have a ton of exposure for his projects;
However, whilst I keep a low profile on what I produce, occasionally I do a print run and announce it on RGVAC or through other channels, but the hassle I get of a few of 'the usual suspects' is pretty irritating.
I understand this, there are a lot of tire kickers. I wouldn't blame Archer for not wanting everyone to know about his Ripoff sideart or the rest of his projects for that matter. But Ionpool is not 'Archer.com', there are a ton of other great resources on that website that should be more accessible to the public.
The Ripoff reproductions aren't new news, but if great arcade information is kept out of the hands of noobies then I think it makes sense to post it here and put the mention of the Cinematronics sideart repros at the top of the common searches. The hobby is slowly dying, let's keep the interest alive.
Here are some similar arcade posts
If you enjoyed this post, please consider to leave a comment or subscribe to the feed and get future articles delivered to your feed reader.