In late April 2008, I did a Donkey Kong themed WordPress layout with the intentions of making it into a free downloadable theme. However, as time passed, I realized that I didn't want to give that theme away for free, so I attempted to make a more generic arcade game theme, on based on the games of Atari.
Well, the design ended up being pretty much only Missile Command artwork, you can only have so much arcade game artwork throughout one template without making it look too busy and poorly composed.
Here is a screen shot of this classic arcade game wordpress theme.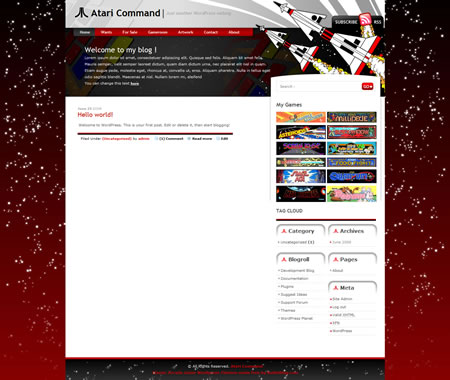 Instructions / Notes
First – I mention this later on, but I do provide free support for this theme. You will need to have a working knowledge of HTML and CSS.
Generic arcade game marquees are included with this template. Most arcade game collectors have games they like to show off, and this is a common way to link to those games. Change out your own marquees into this space, but make sure the width of the graphic you make is 155px wide. This will keep the even spacing.
You will also want to try to keep the same dimensions for width and height with all of your marquees if used. This display uses a float, so if you start to get odd shaped arcade game marquees you will start to get a stacking effect. Change to taste.
Demo Atari Command Theme
Visit the Arcade Game Theme Viewer to check out Atari Command
Compatibility
Tested in Firefox 2, Safari(Window), Opera 9.5, IE7, IE8 Beta.
The Atari Command arcade game theme is released under GPL. All I ask is that you link back to my website somewhere in your site. Currently those links are in the footer and rest assured I can't force you to keep those links, and won't force your site to break like you might see in a sponsored link / Common Share license agreement.
Version History
Version 1.00

Initial Release
Adjusted background style, the red should now fill the screen below the background
Fixed a line of css code where the post footer wasn't expanding the full width of the content and there was some wrapping.
This theme was based around another WordPress theme, so it is well tested but I am sure that there will be some small changes along the way to make this theme a little better. This is my first free theme, so I have some things to learn I am sure.
I will be interested to hear feedback, but since this is a free thing I don't know how much time I will spend truly 'supporting' it. The theme does work, but hasn't been planned for each possible tiny modification that you may make to fit your needs. You will need a strong knowledge of HTML and cross browser compatibility using CSS layout to make some customizations.
Download It Now!
Really Like It?
If you really like this theme and would like updates, more features, and new styles, why not grease the wheel and make a donation? Use my contact link above or send a donation to my email / paypal address – rothecreations@gmail.com
If you customize this theme with your own graphics, come back and leave a comment / link to your customized version. We'd all love to see it and the specific implementation on your gaming or other content WordPress blog.
Here are some similar arcade posts
If you enjoyed this post, please consider to leave a comment or subscribe to the feed and get future articles delivered to your feed reader.