In the last piece of the Ms. Pac-man cabinet stenciling tutorial, we learned about some of the tools necessary to properly apply paint, the costs for some of those items and how to effectively apply the paint to the cabinet.
The primer is done, and today we have the photos of the Glidden Blue Rhapsody applied to the Ms. Pacman. She is looking more like the classic all the time, check it out.
Necessary stuff for this part of the tutorial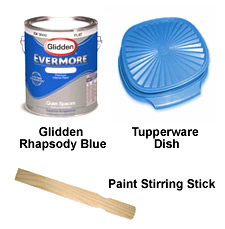 I believe I listed some of these items in part 2, but I wanted to specifically single out the paint and tools you'd need this time around. The list is short, you'll only need a couple of items.
Glidden Rhapsody Paint – Lowe's has it
A stirring stick – Lowe's will provide this with the paint
Some sort of small container – For making the mixture of paint / water
Water – Bottled 'Clean'
The last couple of things are very obvious, get some sort of container to mix the paint in, have something to stir / mix the paint and have some water to thin the paint out. It is the actual paint that we'll pause for a special mention.
Good old Glidden Rhapsody
Apollo's paint codes were the first established rubric to follow for arcade game restoration. From Tron and Joust to Defender and Burgertime, Apollo's archive website (no longer maintained) has a short list of very popular arcade game paint codes.
If you look at Apollo's page for the Ms. Pac-man codes you can find the colorant breakdown.
Now, as you will notice on the paint codes, all of the paints are Glidden. Home Depot carries Glidden and Behr, Lowe's only carries Valspar and Olympic. Lowe's has the codes for all of the common Ms. Pac-man colors, Passion Pink, Sunny Side Up Yellow, etc. in their paint database Fandex. But, you will be using a different base color, so you need to stick to Home Depot or another hardware store that carries Glidden if you want the best possible match.
The Rhapsody color was changed.
When you look at Appolo's page you will see there was an update on the color composition.
Originally the Glidden Rhapsody tint base was HD-6280. But as of 2003, that tint base was discontinued and replaced it with a different tint base labeled HD-6212.
You'll notice that this can from is actually labelled EM-6212. A couple of years back the Glidden brand discontinued it's HD labelling when it upgraded the Evermore line. Now the paint has a lifetime guarantee and more durability, and that is when they changed over to EM for all of their codes. You won't be able to find HD anything anymore.
As arcade game collectors, we rejoice with the fact that there was a replacement blue tint at all, but we aren't completely satisfied that this tint does produce a lighter blue. So, Apollo claims to have re adjusted the colors to get back to the original Ms. Pac-man blue. (Warning: test to your own liking)
The original EM-6280 color breakdown (Apollo says is now wrong with the EM-6212 tint base)
| | | | |
| --- | --- | --- | --- |
| Colorant | OZ | 48 | 96 |
| Lamp Black | 0 | 12 | 0 |
| Thalo Green | 2 | 20 | 0 |
| Thalo Blue | 6 | 28 | 0 |
| White | 0 | 36 | 0 |
The new correct color breakdown with the new EM-6212 tint base
| | | | |
| --- | --- | --- | --- |
| Colorant | OZ | 48 | 96 |
| Lamp Black | 0 | 5 | 0 |
| Thalo Green | 0 | 29 | 0 |
| Thalo Blue | 1 | 31 | 0 |
| White | 0 | 9 | 0 |
This is the big idea. The variances on these colors are small. When you do some test painting with your satin blue and compare it against the back door of the cabinet or another piece of your Ms. Pac-man I am sure you will have varying results. Some Ms. Pac-mans are faded, some are not, and some people don't have an artistic eye to know how to adjust a color to make it match. It will come down to preference, and only the die hard geeks will know if your chosen blue is just a little bit off.
For this first coat of Ms. Pac blue, Donnie used the old color breakdown. You'll see a similar photo of the codes on Apollo's paint codes page.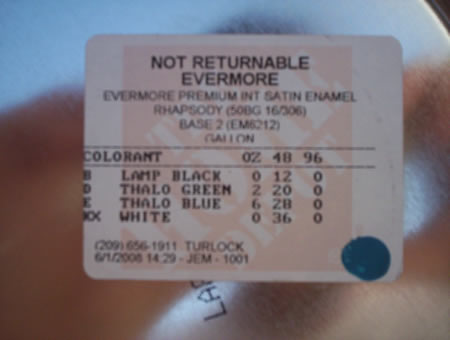 In the end, Donnie found that at first blush the blue seemed to match the original Ms. Pac-man back door perfectly. But after sitting longer and curing, the paint took on just a slight tinge of green. So as far as I know, his cabinet will probably be repainted with a custom mix of Rhapsody paint with less green, or maybe using the color codes above.
Will he sand down and re-primer? My guess would be not, but I will keep you updated on that progress when it happens.
Note: Not to jump ahead too much, but in part 4 the tutorial continues and I am using this information to stencil my own Ms. Pac-man cabinet. I used the second paint mixture with the EM-6212 base. Again, jumping ahead, but I initially thought that the blue looked a tinge green. But after it dries…ha ha, and you look at it long enough, the blue looks correct. I only say that because, not too many of us have seen an original Ms. Pac-man without colors with some degree of fade. So, to make a pre-emptive judgement that the 'retested' set of codes is wrong many not make sense. But again, mix to taste. I think the differences between the two codes are probably only slight.
Let's paint this Ms. Pac-man!
I talked a little bit in the last part about applying primer, and applying paint isn't any different.
First, you'll want to open up and make your blue mixture in your container. Depending on the size of your gravity feed spray gun, you will need a larger or smaller container. I recommend using that crappy old Tupperware bowl your wife got handed down through two generations that has spaghetti stains and cracks in the lid. She's got a personal attachment to that one? Well, you can always makeup later 😉
Add some paint and a little bit of your bottled water. Take a look at the photo, you will want the paint to have a cream consistency like before and it should run off your stirring stick similar to what you see here.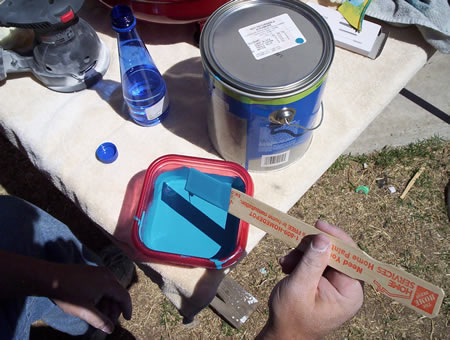 Start spraying
You'll see a partial demonstration of this, but here is the recommended method for this tutorial. When spraying the Ms. Pac-man cabinet with your paint gun, make consistent even light passes
horizontally and then come back in the same manner vertically. On average, you'll make three sets of passes each direction to get a truly even coat of blue paint on the cabinet.
Look at these photos of the top of the cabinet for a demonstration.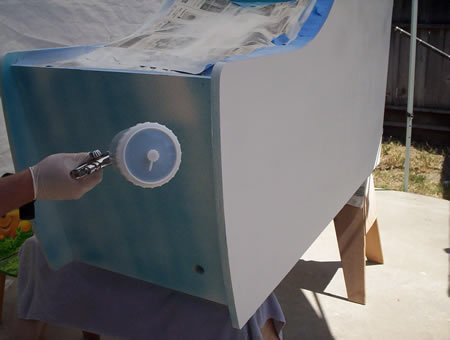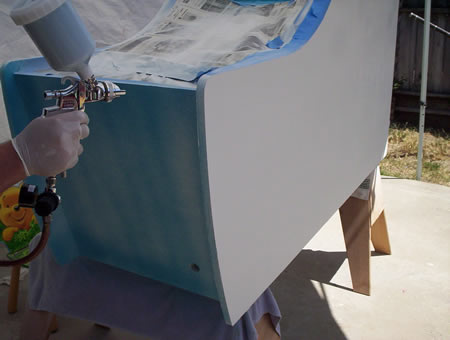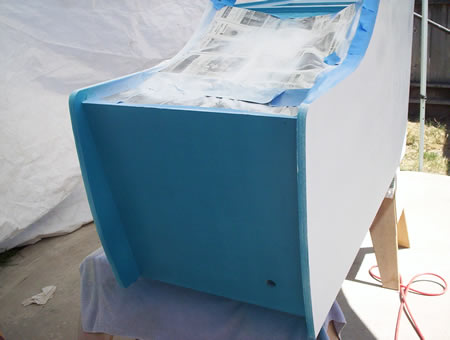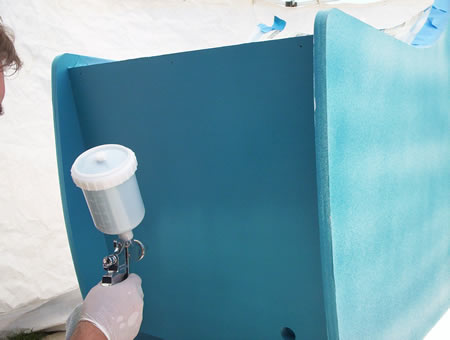 Obviously, you'll make a different amount of passes depending on the surface area of the side you are painting. But we've got some demo photos of almost every Ms. Pac-man cabinet side, so check it out.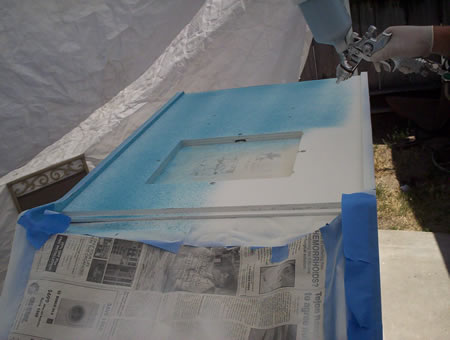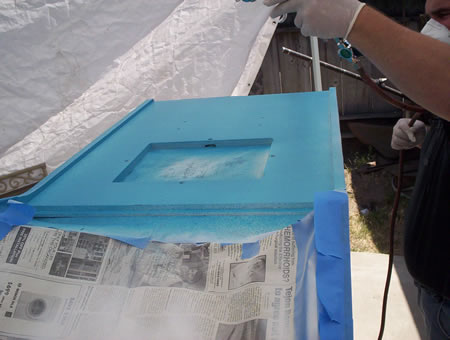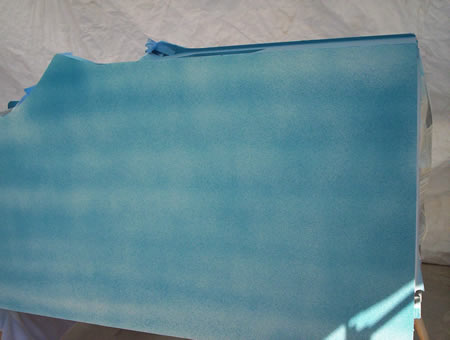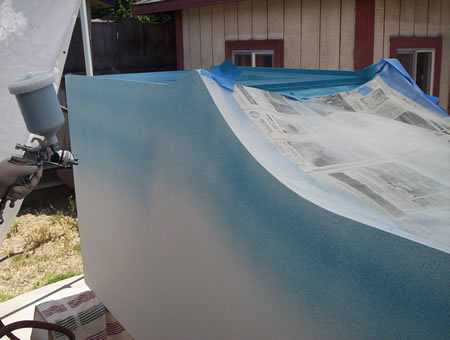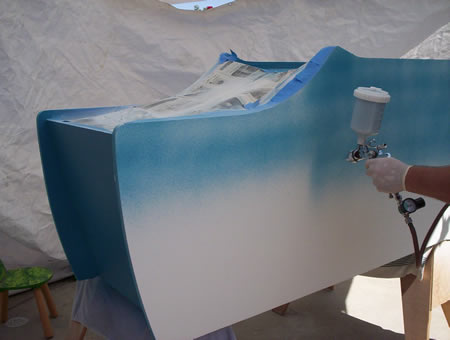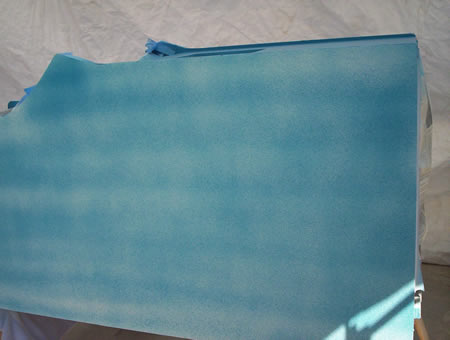 Periodically you'll need to wipe off your nozel to continue your even blue spray. By now you will have learned this if you have used the paint gun for the primer or any other cabinet application.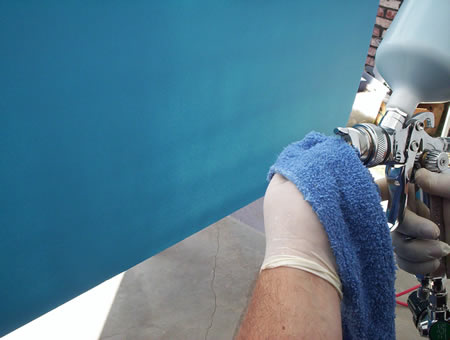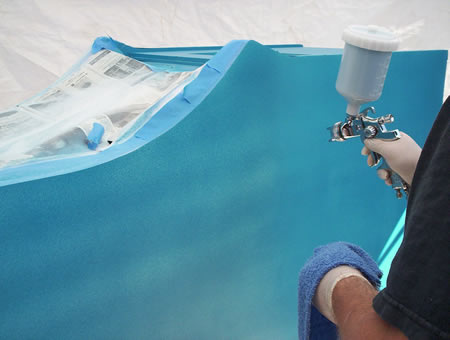 The Ms. Pac blue matches pretty nicely in the photos, doesn't it?
Here are some final photos showing of the blue coat on the Ms. Pac-man cabinet.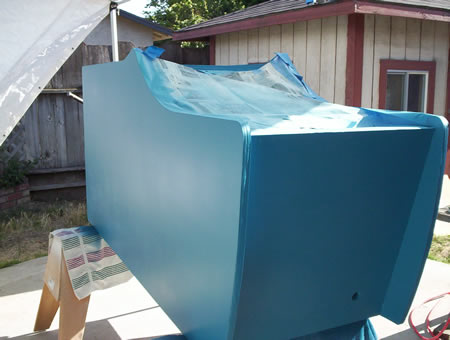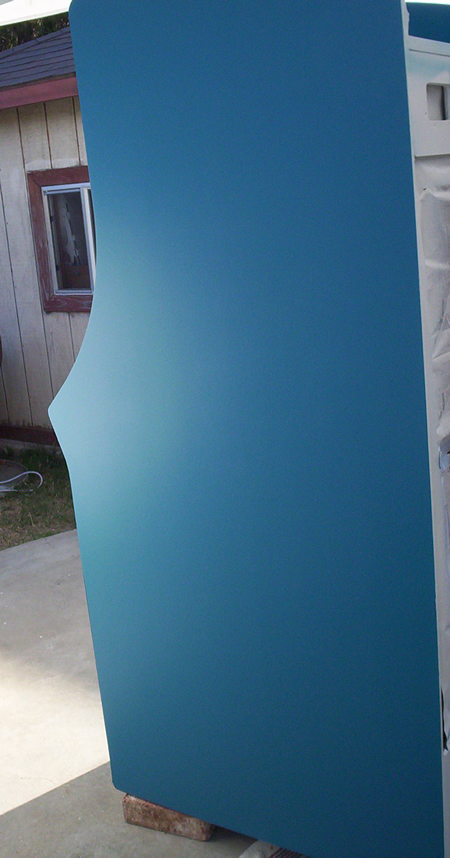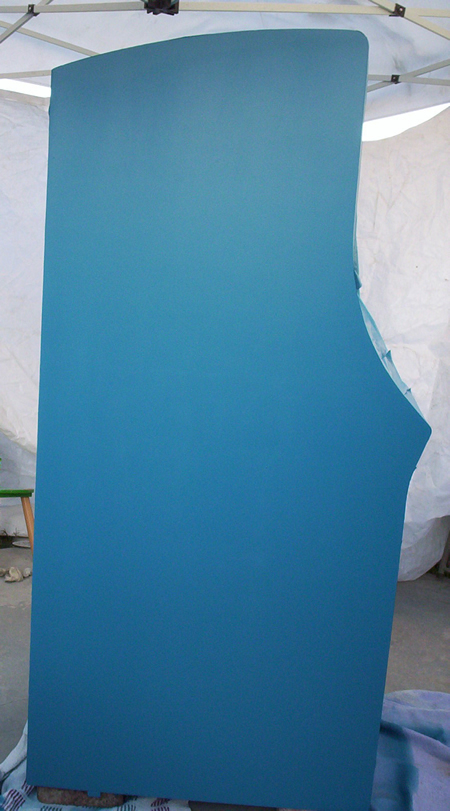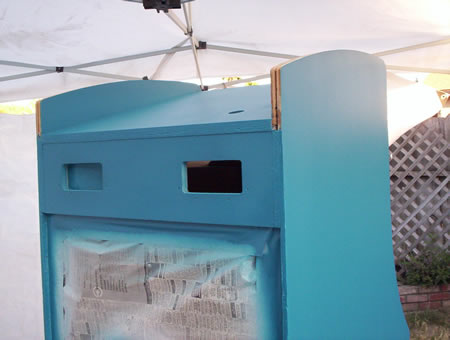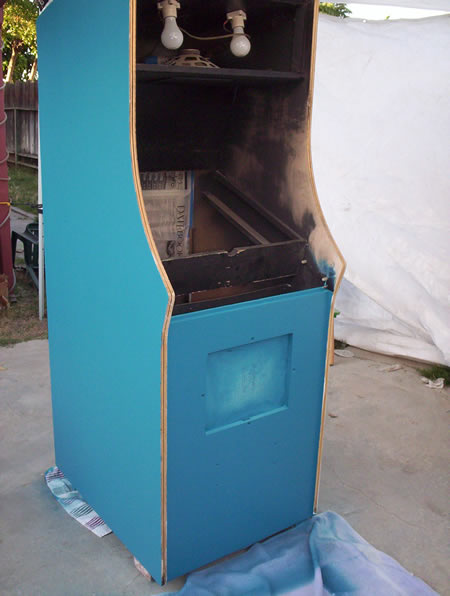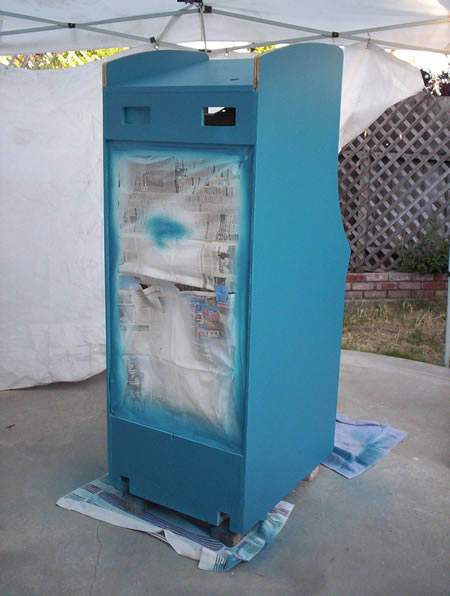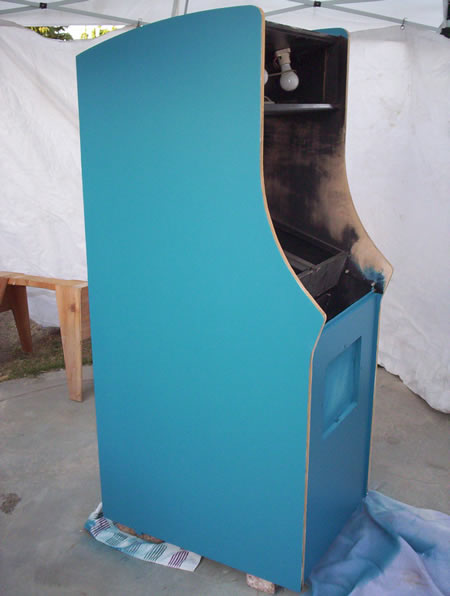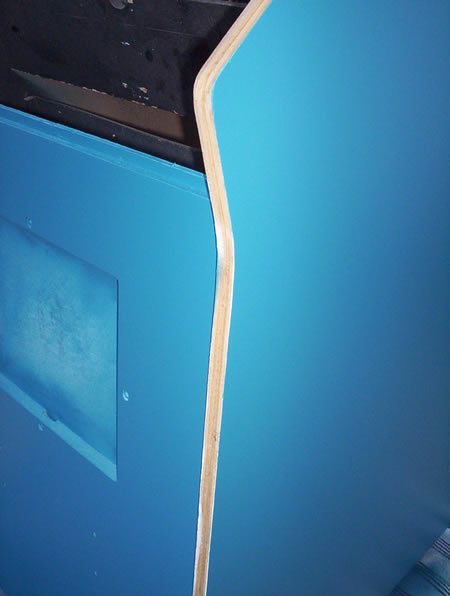 Photos are misleading. Only face to face will you be able to compare the two blues together, and apparently this coat is a little green. You can't tell from this comparison photo of the newly blue cabinet against the original back door.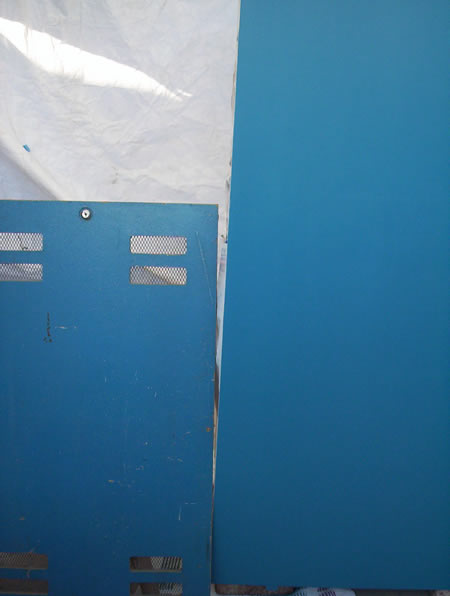 But nonetheless, pretty awesome to see a freshly painted Ms. Pac-man cabinet. Kind of reminds me of the Burgertime cabinet stenciling post from last week, only in a nice blue not that cat colored orange 😉
That's it, time for the stenciled artwork
If it seems necessary, I will write an in between part for this tutorial to the first stencil application when the Ms. Pac-man cabinet is repainted. What I will probably end up doing is just writing up a little addendum to this piece with any paint code changes and significant tips that will help you get the most perfect Ms. Pac-man blue color match.
In part 4, we'll be looking at some of the potential thoughts, timeframes, and misconceptions about applying your yellow stencils, so stay tuned.
Here are some similar arcade posts
If you enjoyed this post, please consider to leave a comment or subscribe to the feed and get future articles delivered to your feed reader.