It was a crazy week, an exam and two papers and then the July 4th holiday weekend and a fun time with family. But at the end, I knew that I would be traveling to finally pick up my own, original, Universal Mr. Do! arcade game.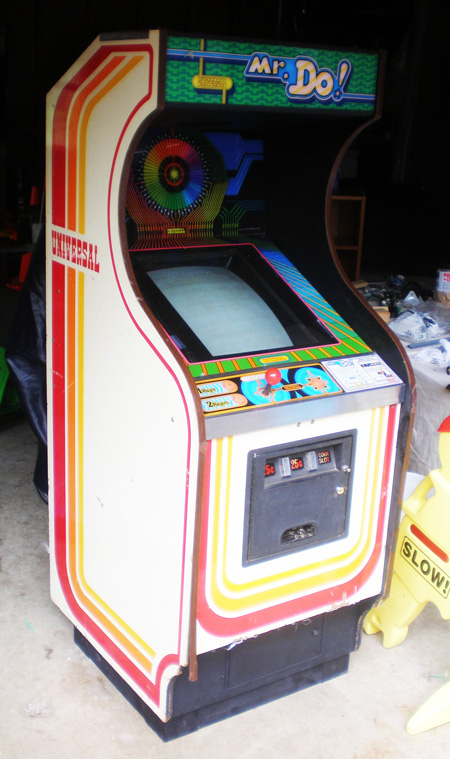 With such a widespread blog like this, it was hard to keep my Mr. Do! acquisition a secret, but you have to do that sort of thing when collecting arcade games. It's a funny thing, a fine line between excitement and patience. Any game deal could fall through at any time and until you have the game in hand, it's not a sure thing.
Thanks again to my network, they have come through for me again. The Mr. Do! has pretty typical wear and tear, but it has the original wood t-molding and the solid orange buttons, which I learned today is a good thing? Makes it more dedicated, instead of a Ladybug conversion at the factory. It even works! I got in a short game last night, but it was dark and late, so hopefully it still work when I get it home. Hopefully when I get back home I can post a little bit more about the back story, the players and the trip itself.
Granted, it's just a Mr. Do! It's not a dedicated Williams Splat! or anything, and therefore I wouldn't use the word 'grail'. It's a special game for me personally, and I'm pumped to have it, but to call it a grail might be blasphemous considering the word 'grail' by definition means a one of a kind object. In this context, it would be a game that is extremely rare and only a handful of them exist.
Looking for two years around the Indianapolis area and beyond for Universal Mr. Do! would make you think that they are more rare than they are. I'm just glad that it came to me 😉
Here are some similar arcade posts
If you enjoyed this post, please consider to leave a comment or subscribe to the feed and get future articles delivered to your feed reader.