With my final exam having wrapped up tonight, I had a good part of the day to 'play'. I started this over the weekend, I felt like I needed a small celebration to start me off for my three weeks off from my masters program.
Yesterday I started vectorizing a scan of an NOS Mr. Do! control panel overlay. Today I finished that artwork.
Do collectors who don't like Mr. Do! like the art?
I like the Mr. Do! artwork, mostly because I love the game. I wouldn't choose an overlay that has pink, blue, orange and yellow by default, the artist in me would run screaming the other way. But the nature of the criss crossing lines that compose the non descript design is intricate and interesting.

Like many other pieces of arcade artwork, this particular piece has a couple of weird oddities to it, but there is only one worth mentioning. The 'straight' lines that span the horizontal width of the plexi are not 'straight' at all. This may not seem like a big deal at first blush 'Why not straigten them?' you ask. The problem is, there are a number of other lines that run parallel to the non straight lines so one change effectively modifies all of the artwork. The most obvious detail is how the rounded corners butt together right under the joystick.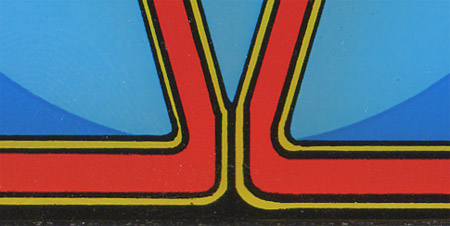 You can really only see the differences in the line thickness at an extreme zoom like this (I really like the bleed over of the blue and pink to make a violet color. Necessary but not exact, each of these lines are a different thickness which is just sooper);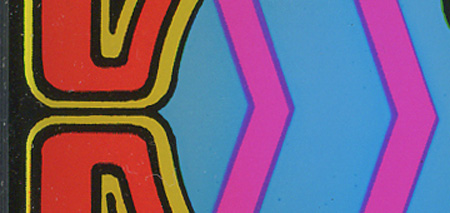 Kind of the irony of the whole thing. I will make the lines more uniform and straight, but they are so small and thin, no one will even notice. However, looking at these overlays, I felt Universal's intention was for them to be straight, so I am straitening them. This is a small detail in the overall scheme, if you look at your own Mr. Do! overlay you probably wouldn't even be able to notice those lines. They are pretty thin as it is.
Mr. Do! copyright font
Knowing that the most common font for arcade artwork is Helvetica, I started there to match the copyright text. I have seen Helvetica used on Bally, Stern and Sega artwork, but Helvetica just wasn't flying here.

I ended up finding a fairly close match in a font called VAG Round. It's not an exact match, but at this size, will be more than adequate. As noted in the comments, a reader with much more skill in identifying fonts, or more resourceful in their identification tools has corrected me. The font used for the Mr. Do! copyright is a much more standard font in Futura Bold. I figured it had to be an old mainstay font, but I am just really bad at eyeballing text.
What's next for the Mr. Do! reproduction artwork?
The artwork is done for the left side of the Mr. Do! overlay. I didn't do any extensive research for hours on end to find out if Mr. Do! reproductions had ever been done, but I haven't seen any information cross my path. However, I will be checking to see if the instruction panel on the right side has ever been vectored. That is the next piece to do to get this Mr. Do! artwork ready for reproduction.
Sidebar – I knew these items weren't repro'd by Arcade Renovations, even after I got a new list of reproduced items from an individual close to AR this week. I will be getting those online soon at the 'finished list of reproduction arcade artwork'.
Here are some similar arcade posts
If you enjoyed this post, please consider to leave a comment or subscribe to the feed and get future articles delivered to your feed reader.