Short post tonight. Between three new website designs, deadlines at work as well as my MBA courses starting up again this week I still have found time to poke at vectorizing the Mr. Do! instruction card. Here is the progress to date.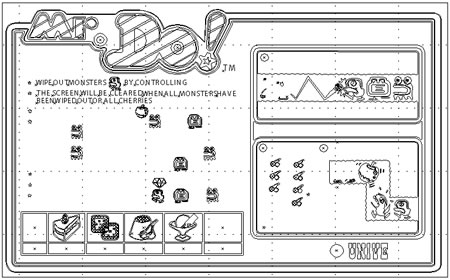 I just took a screenshot of the keyline view of the Mr. Do! instruction card artwork to date. The most time consuming and tedious piece for me is replicating each piece of text on the card and kerning the characters correctly to match.
There have been some difficult portions, like the individual characters and artwork within the text. Even at a 300 DPI scan, the detail is so fine that a best guess on intent is most appropriate when vectorizing. I am dreading tracing the running Mr. Do!, he seems to be the worst.
There was one burn and a couple other trouble spots that I had to work around that I will try to spotlight when the rest of the instruction artwork is finished. I imagine another hour, maybe two should complete the tracing and coloring portion, not the separations of course. But that doesn't need to be done unless the piece is repro'd.
Here are some similar arcade posts
If you enjoyed this post, please consider to leave a comment or subscribe to the feed and get future articles delivered to your feed reader.