Back in late April I got my second arcade game themed piece of clothing when my Donkey Kong 2 t-shirt arrived in the mail. On my trip to Chicago for my Mr. Do! I also nabbed five more classic arcade shirts from Chris Moore.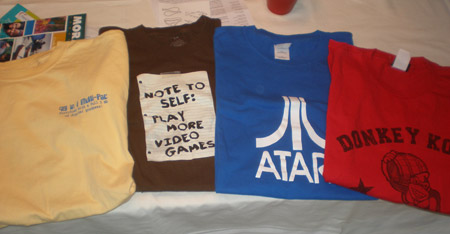 Some people may have too much pride to take a 'hand out'. I however sir, do not, especially when they are cool shirts and I have very few to speak of.
The Arcade Shirts
The first most worthy shirt of mention is the limited print 96 in 1 Multi Pac kit shirt. This was the shirt that collectors got with their order for the first Multi Pac kits from Mike Doyle. Like the Q*Bert limited edition t-shirt, Mike made these up as a thank you and small incentive to those collectors who dropped the money on the kit.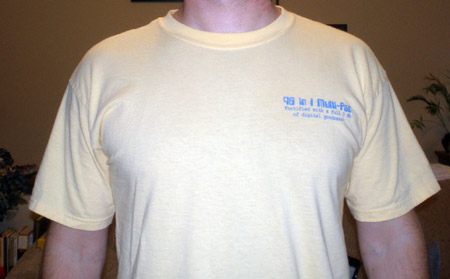 I will say, I am not a huge fan of this shirt. So shoot me. I appreciate the 'mother knows best' throw back to a bygone generation, but I really question the original intention of the blue print on a yellow shirt. Pac-man related colors maybe? I give up.
The back of the shirt says 'Video games make you smarter, one level at a time' and the front says '96 in 1 Multi-Pac Fortified with a full 5 Mb of digital goodness'. I find the saying funny, and most of these are personal preferences, but I just don't like shirts with a lot of writing on them. I think there is a stereotype that goes with a shirt with writing on it, and I think it can pigeon hole a first impression. I think in general, it's a cool design and I like the cut of the shirt, just isn't my favorite.
The next two shirts are my favorite. The light blue with the Atari logo and the red 'Donkey Kong Champion'.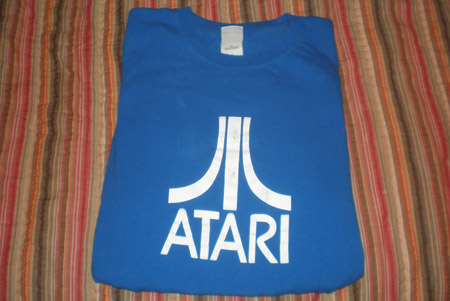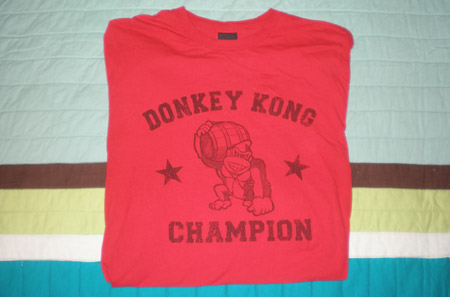 Atari's logo is classically stunning in it's composition and simplicity and the shirt fits nicely. I like the red shirt with the vintage wear to it, and 'Donkey Kong Champion' is text, but doesn't really say anything about me other than I appreciate Donkey Kong. Funny that this would be my second favorite shirt since I don't even get into Donkey Kong. *Ducking*
The final two shirts are the dark blue Atari and the 'Note to self' shirt.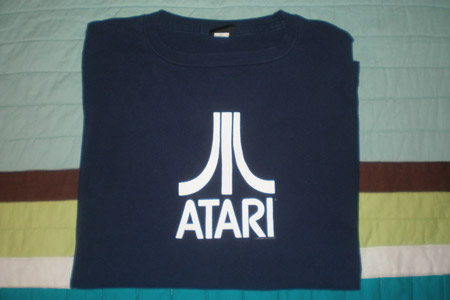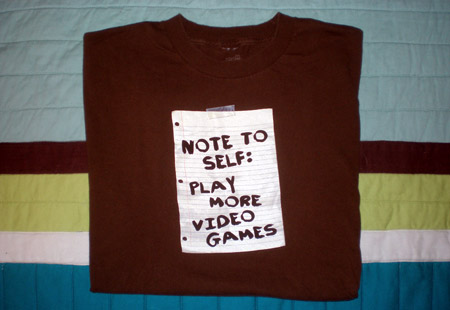 Now, the dark blue shirt is pretty much identical in print to the light blue, same Atari logo, same size, everything. However, the shirt is a little big on me. Second, the 'Note to self, play more video games' is another one of those 'text' shirts. More logos, less text please. But I like the fake taped note, I actually have had people come up to me and try to pick it off. Fairly amusing.
Anyone got a favorite arcade game t-shirt?
Care to share? I would post photos here if you would like to email them to me at rothecreations@gmail.com. I did a quick search online and on eBay for the shirts I am showing here, I didn't turn up anything. I don't know where Chris picked them up, but he's been at this longer and I have been told that he has quite the wardrobe, maybe even more than your average women. We won't fault him for being a pretty guy 🙂
Send me a photo of your shirt, you wearing it, whatever and tell me why you like it. Is it the fit, the design, the color, what?
Sidebar
I would love to see some photos of people wearing the CAX 2008 shirts. The primary design was pretty rad. The second design completely sucked in my opinion.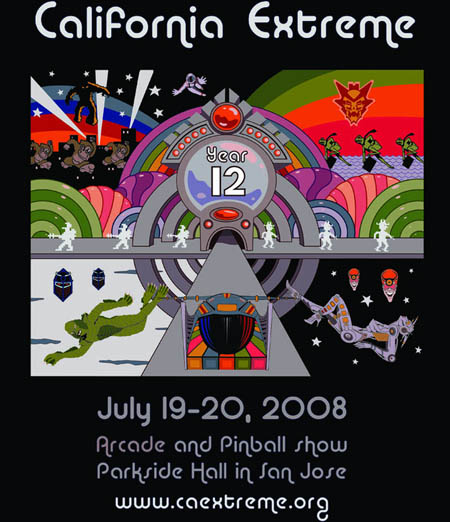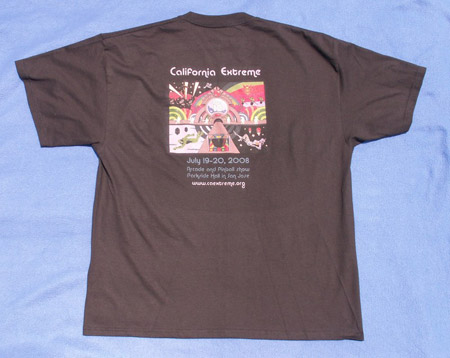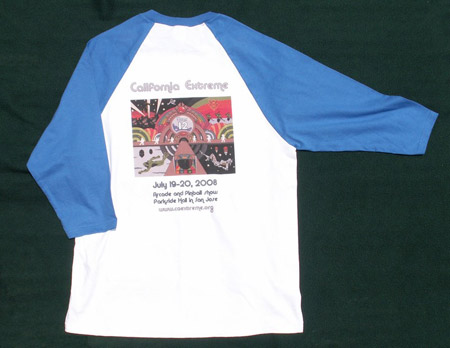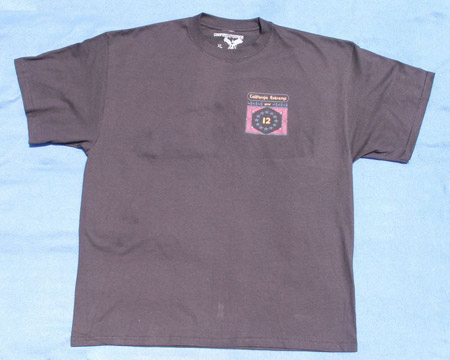 While I think Sesame Street design was a nice composition, using another retro era idea and morphing it into an arcade domain really worked. Granted, there wasn't a strong connection to any arcade games in general, but it is a cool shirt. Good choice of shirt color to complement the design, and the baseball style sleeve one is a nice throwback as well.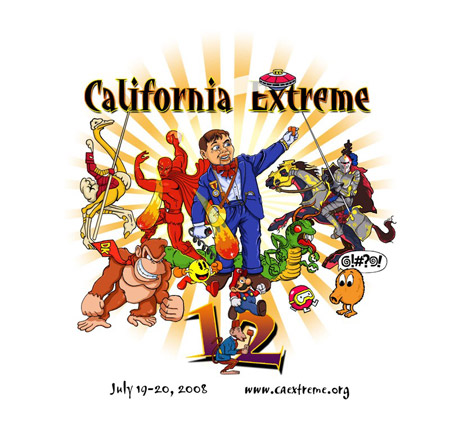 However, the second design, I have always thought anyone with some design talent would re-draw famous gaming characters in the best poses possible. This shirt to me smacks of a beginner using Photoshop to compose a Mame marquee with art from Local Arcade. Oh, let's add Q*Bert from the marquee, flip him, and thow Pac-man running on there, oh and wait we need Donkey Kong looking like he is falling over. No! Seriously. Oh, and with a cutesy sunburst in back. The font doesn't scream arcade, I don't know. Too much going on, I couldn't ever see myself wearing this, but if you want to send your photo I'll still show it off.
Update August 14, 2008
Here's a user submitted arcade t-shirt. Mario themed we have the 1Up Mushroom, simple but understated retro, cool. May still be available at your Walmarts or your Targets.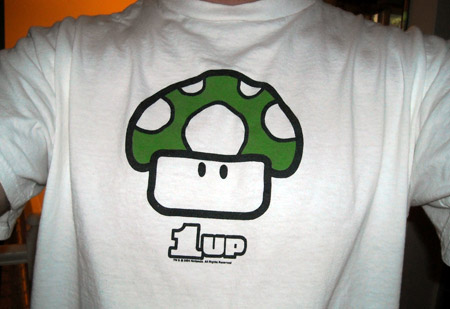 Update February 17, 2009
Another arcade / retro themed shirt, from the same user who submitted the 1Up Mario themed shirt above. He took the 8-bit scorpion from Pitfall on the Atari 2600 and had a shirt made from Cafepress. Cool if you are a fan of this popular Atari 2600 game, thanks for letting me show it off here;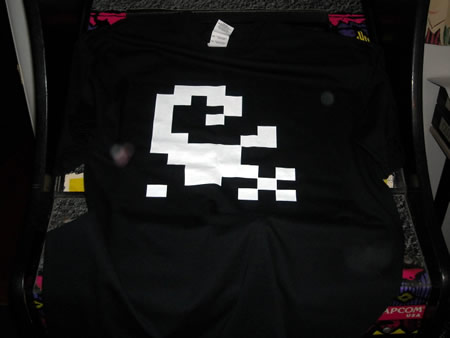 Here are some similar arcade posts
If you enjoyed this post, please consider to leave a comment or subscribe to the feed and get future articles delivered to your feed reader.