Been waiting for this to drop, furiously tapping my leg. But tonight Brian updated his RGVAC arcade game website with a brand new theme that I designed. I was really happy with the way the layout turned out, it uses pieces of artwork from some of his favorite games.
Custom Arcade WordPress Themes
Hopefully you've read this far;) I know some people scan. RGVAC is not free and not for sale. This is a custom contracted WordPress theme paid for by RGVAC, or Brian's Classic Arcade game website. Now that I've got that out of the way before someone asks about downloading a copy.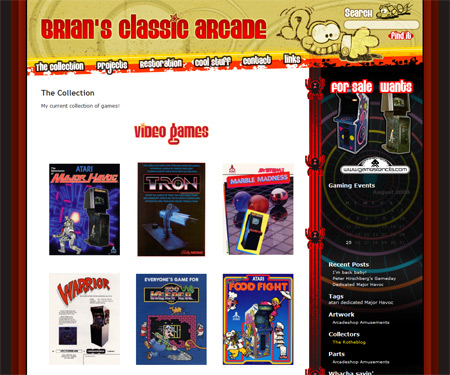 A little bit about the design
I knew right from the start that I wanted to use some pieces of artwork from Brian's favorite games, which I already mentioned. Brian has been collecting for ten years plus now, and I know he is passionate about particular arcades. Most people just want the typical stuff, some Donkey Kong, some Pac-man, but what made this site so enjoyable to design is that I got to use elements from Quantum, Black Widow and even Tim Skelly's Screw Loose, which Brian owns the only known working version of that game. (It may make my top 15 prototype arcade game list ;)) If you haven't already, go ahead and bring up Brian's arcade blog in a new tab.
Can you see the elements from each of the games I mentioned above? Black Widow is pretty easy, the red banding and spiders in the sidebar as well as the spiraling pattern in the background. But can you pick out Quantum? Probably, but if you didn't, there is a ghosted piece of the control panel overlay in the main banner and one other element not from the control panel. Leave a comment if you can pick it out.
There are the two Screw Loose characters up by the search field / the comments indicator, and elements from the Centipede sideart with the 'flaking' red bar at the top drawing from the blue explosion patterns from Atari's classic.
Top that off, I really wanted to play off the words 'Classic' and 'Arcade', so I tried to give the banner a weathered satchel brown paper type look, as if we were looking at the games in an old 50's style movie reel. Top that off carrying over the old RGVAC logo with a little modification, and some of the 80's style font outlining and you get a pretty sweet looking website. The real key to all of these pieces of artwork was already having them in a vector format to easily manipulate.
RGVAC is now a blog style website
If you are interested in a custom arcade game theme for your website give me a call. A little research on the internet will let you know how powerful WordPress is for syndicating content and propelling yourself to the top of a given niche. Most arcade game website could really pass for blogs, here's a short list of arcade game blogs that already exist.
If you are looking to get noticed a little bit more, and are actually looking to reduce some of the work it takes to maintain your website in the long run, shoot me a line. I might be able to help you out.
Here are some similar arcade posts
If you enjoyed this post, please consider to leave a comment or subscribe to the feed and get future articles delivered to your feed reader.