Wow, I totally missed this. A Mr. Do! on Craigslist in Portland on Sunday with an asking price of $50. It sold in 15 minutes obviously, but that seems really low especially for the condition the game appeared to be in from the photo.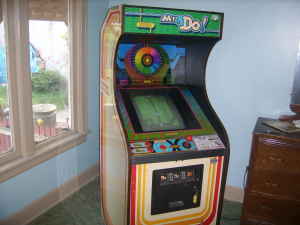 Looks like the Universal Mr. Do! was working, and for $50 I could have just about shipped it to Indianapolis, Indiana for a decent price. Or, at the least, Rich Lint could have picked it up and somehow squeezed in some Mr. Do! reproduction artwork to his crazy artwork schedule.
I have finished writing up my trip to pick up my Mr. Do! in Chicago from last month, and hope to have that posted tonight. If this game had sold about 3 states more east I might have been kicking myself since Mr. Do!'s are so hard to come by. Here's the link to the Mr. Do! that sold on Portland's Craigslist although it's already been removed though.
Does the lucky winner who picked up the Portland Craigslist Mr. Do! find want to step forward and brag a little?
Here are some similar arcade posts
If you enjoyed this post, please consider to leave a comment or subscribe to the feed and get future articles delivered to your feed reader.