I haven't forgotten about my project to vectorize and prep the Universal Mr. Do! instruction artwork for reproductions. I have been picking at the artwork when I can, worked on it for an hour or so on my little mini vacation to Toronto for Fan Expo at the end of August, and I do a half hour stint here and there. The text matching has been a bore, but you can see that I am through most of that.
Arcade company's like to tease
It's pretty standard that when I get a new piece of arcade artwork to vectorize and that piece has text the first font I check against is Helvetica. Over 10 pieces that I have had my hand on used Helvetica, and this Mr. Do! instruction artwork is no different.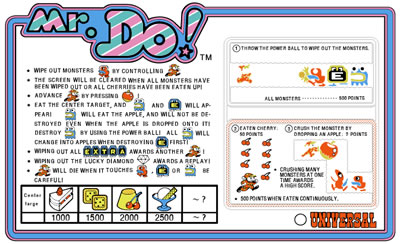 However, some of the bigger font pieces like 'How To Play' and 'Copyright' may use some weird variation of Helvetica but from what I can tell, it is more like Universal's artist used the Helvetica font for the base and then distorted it in some fashion, outlined it, smashed it a little bit, whatever made sense to give the text a flow through the piece.
Anyway, most of the artwork is done, as you can see. I would say the largest piece left is matching the weird font items. And I have to fill the colors on the right, otherwise you'd be able to see that all of the Mr. Do! characters over there are finished. I am just glad all of the instruction text is done, that took entirely too much time for me to kern it all. That is one of the main differences between this progress and the initial Mr. Do! instruction artwork progress, beyond the color fills that is.
Hopefully I will be able to finish this piece in the next two weeks.
Here are some similar arcade posts
If you enjoyed this post, please consider to leave a comment or subscribe to the feed and get future articles delivered to your feed reader.