I wrote late in August that I had purchased a set of Ms. Pac-man stencils made from the joymonkey artwork pdf file. Before I had gotten the stencils I had completely disassembled my Ms. Pac-man machine, put the parts aside in the basement, took the cabinet outside and started to get ready to repaint it.
Filthy dirty Ms. Pac-man
This was the first time I had cleaned the Ms. Pac-man insides. It had been on location somewhere in it's life and was filthy. At the time I got it I didn't feel confident enough taking it apart before moving it into the house so I only cleaned the outside.
Cleaning is first, and then onto prepping the Ms. Pac-man cabinet for the stenciling process. This is the same process that I have already detailed in my Ms. Pac-man stenciling tutorials parts 1-3 so I won't completely revisit that information.
However, ever person will experience some things that are different than someone else, and I had a couple of those moments myself. Before I get into those notes, here are some photos to date from the last three weeks;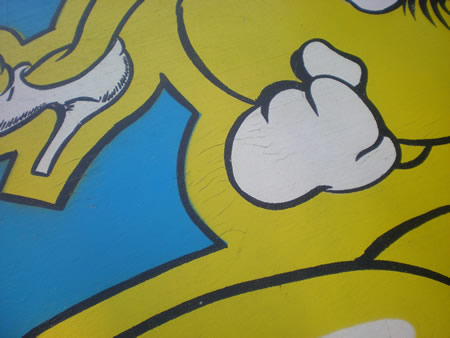 My Ms. Pac-man wasn't too bad cosmetically, but it had no pink left and the painted artwork was cracked and lifting in some spots on the cabinet.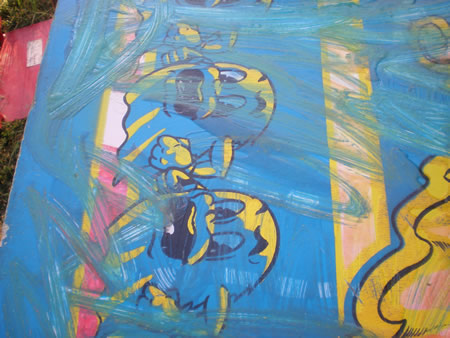 One thing that surprised me, is I got to see some of the Ms. Pac pink when I started to apply the stripper. Too little pink too late.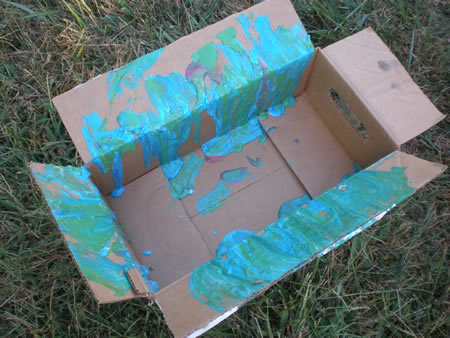 Best thing I had learned this time around. The first cabinet I stripped was an old Pac-man. This time around I grabbed a box hoping to scrap the web stripper / paint mix into it. If you have a box with flaps, flip the flap in and that gives you something to always scrap against and then the paint falls into the bottom of the box and you never run out of edges.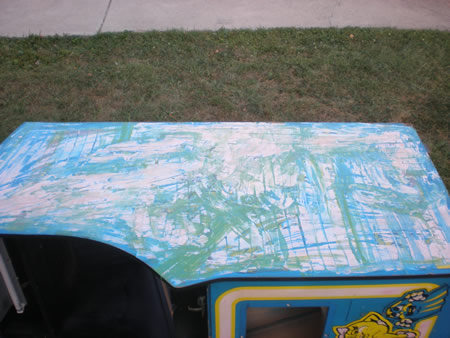 A shot of the Ms. Pac-man cabinet almost stripped on one side. Looks terrible. I was trying to keep costs down as much as possible, but my time is important to me. I went and bought a much larger dry wall scraper when I did the second side and the paint came off like butter…not tiny strips like you see here.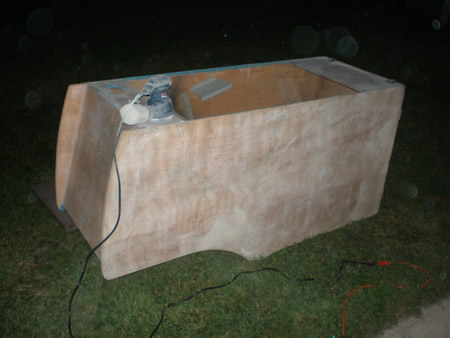 Cabinet sanded down. I was told to sand with a number of level of grit density sand paper. I don't know if it is just me, or where I am going (Harbor Freight and Home Depot) but I couldn't find the suggested grits. I was told to use 120 to start, go back over the cabinet in something finer, maybe a 160 grit? and then finish in 180 grit. I could only find 100 and 150 grit in packs of 5, so that is what I used. I started with 100 to get most of the paint off, and then went back over the cabinet in 150. I think I had a 180 in the multi pack that came with my new Ryobi sander that I may have used as well.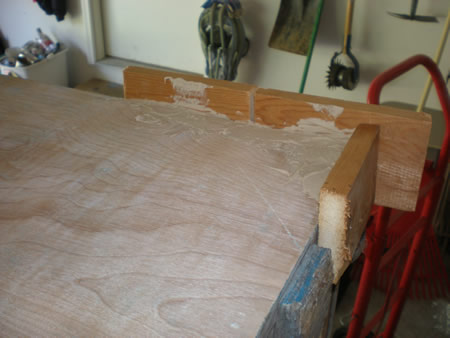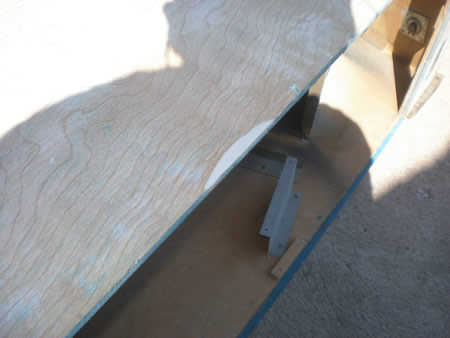 Patching. Before and after. Love the wood wedges, I had always had problem with a maleable substance to stay in the place I needed it on the edge of a cabinet. With these boards I got nice straight edges with my bondo patching.
What else I learned in my stenciling experience
Let's see. Don't use a belt sander, you can create grooves in the side of your cabinet. Brian Jones caught me early and told me to only use an orbital sander. I was able to borrow a belt, but no one I knew had an orbital so I sprung for that cost.
The second thing that I didn't think of that I wish I would have. The section of the Ms. Pac-man cabinet by the bezel / monitor that is painted black. When stripping you might want to mask this off in some fashion. I was pretty careful with the stripper and the edge, but one time some stripper splashed off onto this section and removed some of the black paint. Now I have to repaint that section as well 🙁
Those are the only arcade tips I have for now
Everything else is in the Ms. Pac-man stenciling tutorials and is pretty well explained. I don't think I'll get to priming this weekend, which means I am a week or two from getting to the point where the other set of tutorials is held up – the blue Ms. Pac coat.
According to the other owner who is stenciling his cabinet he is held up with other time commitments. His individual color spray cans are in off special order and ready for pick up. Who knows, maybe he'll beat me to the punch.
Here are some similar arcade posts
If you enjoyed this post, please consider to leave a comment or subscribe to the feed and get future articles delivered to your feed reader.