Not sure if this one has hit many arcade game collector's radars or not, probably because this Craigslist listing was filed under games / toys which is not as typical. For $200 you can get yourself a working Pengo if you are in Northern Michigan.
Pengo's are worth $250-$300
That's in my opinion at least. I like the game and that may influence that value. This one however is probably about right for the asking price. Take a look at the photo.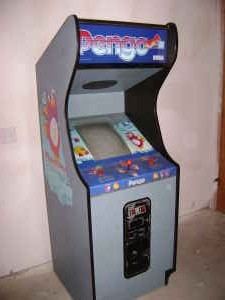 Here's the Pengo Craigslist for sale link while it's still valid.
It's cheaper than the other two that have come up for sale on Craigslist / eBay – Pengo in Chicago and Pengo in Indianapolis. From the photo on the one side of the cabinet you can see that the sideart is about 50% complete, which is really a 100% waste and worthless. Based on the ad text, I think he could be talked down to a better price of $150.
Fully working 1982 Sega Pengo Full Size Video Arcade Game. Asking Price is $200.
You'll spend $65-$100 when my Pengo sideart is someday reproduced and have your total cost end up around market value. I still need a full in financial backer, and now might be the worst time to look for a volunteer.
Heck, if you decide you want to pick this Pengo up to part out to others, I would be in for the game board. I am still looking for a second PCB for my Pengo, so get in touch with me if that interests you.
Arcade games a small casualty of the sub mortgage bail out?
I have seen a 30% increase in classic games being listed on Craigslist over the last three weeks, all at decent deals. People are hard up for money, and their hobbies are the first to go. That is why it pays to be prudent in taking on any new games, so when tough times come the classics don't have to go.
Here are some similar arcade posts
If you enjoyed this post, please consider to leave a comment or subscribe to the feed and get future articles delivered to your feed reader.