I got to browsing some profiles on the Great Game Database the other night and I came across a listing for a game called 'Swimmer'. Never heard of that one. I went and checked out the listing on KIov – hum dinger. Purple people eaters, underwater fruit, crabs with crane like claws and full artwork including speaker grill overlays on top of Presidential wood grain cabinet?! This is a doozie. Check it out.

Did I walk into that scene in Dumbo?
With the crazy hypnotic elephants in multi colors? This artwork is similar to the experience I get when I look directly at the sun for a minute and then look around, ooh, rainbow colored grass.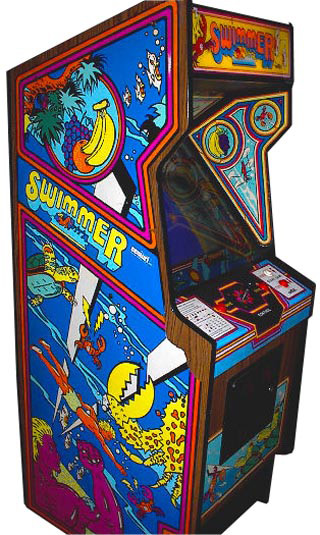 Here's how the development of this game went down
I could just see the Van Gogh who did the artwork for this cabinet. He's a recent graduate of RISD, he wants to be known for something.
The boss comes in, pitches him this idea.
"Jacob, how about this for a game? It's a vertical scroller, you're a swimmer, and you have to dodge flesh eating karp and irate shellfish? What do you think"
"Mmm, great!" He says.
All the while he's thinking;
"I'll show him, idiot. You fix one radio and you think you can design a video game. I'll never get to design the next Pac-man and I have…great ideas."
"You want a game with a *swimmer* (smarmy mocking voice) huh? Ok. You get your Namor game, I design it in every damn color I can think of. What you think about that Mr. electronics genius?"
And the rest, as they say, is history.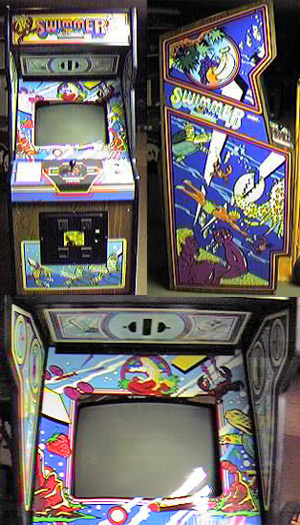 There was one cutoff photo of a Swimmer cabinet on Klov, and I found a couple more at Xmission. This whole thing started from Anthony Pietrak's (Quarter Arcade.com) profile.
Anthony, got some better high res photos of this game? Maybe seeing a better quality image would change my opinion.
Don't get me wrong, I actually love how much artwork there is. If I liked the underwater theme more, I might dig the artwork itself. But the design is lacking, and is no Atari in composition. This must have cost a fortune to offset print all of this artwork, this company went full bore into the gaming industry. Good thing that Tehkan is going down in history with the other big names like Williams, Midway and Cinematronics 😉
Anyone played a Swimmer arcade game in person? Anyone else have one that they want to share why they like it?
Here are some similar arcade posts
If you enjoyed this post, please consider to leave a comment or subscribe to the feed and get future articles delivered to your feed reader.