I remember starting out learning about arcade games. It could be hard sometimes to find out answers to even the simplest questions. Then, after we learn about the details and parts of the arcade game I take it for granted that everyone knows what I know.
Yesterday I had a collector who was looking to clean up their NBA Jam buttons by taking them a part for a thorough scrubbing. I asked the guy what sort of switches the buttons had, leaf or micro assuming that they probably had micro switch buttons since NBA Jam is a JAMMA game from 1993. But he asked, "How do I tell the difference". So, this short post is for him.
Microswitches vs. Leaf Switches
Most collectors know this, it's one of the first things we learn but when you get that first game home, filthy, maybe not working, excited but overwhelmed one of the first easy things to do is start cleaning it. Even simple information like how to properly take buttons apart isn't easy to find on the internet.
Let's just assume you got the buttons out of the arcade control panel ok. Now you want to know what a leaf switch looks like vs a micro switch (usually Cherry brand). Here are some photos to help figure that out.
Arcade Button Leaf Switch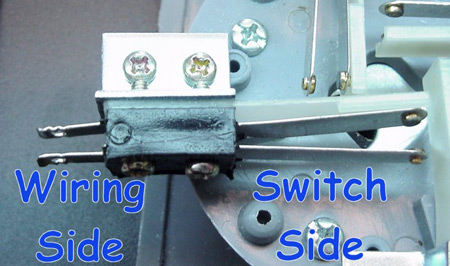 Arcade Button Microswitch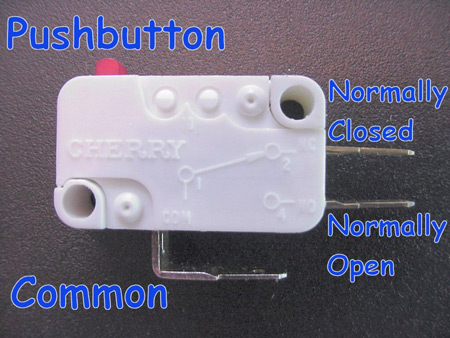 Related Links
When I did some general searches I found that the closest reference for different types of button switches was included in a general writeup on wiring over at BYOAC. The photos above are actually from that little tutorial, with the connections already labeled appropriately.
Arcade buttons are simple
Simple and to the point. But, maybe I am using some terminology wrong, or maybe there is something else really helpful to know about arcade button switches that you can contribute? Like another type of switch? Or maybe someone knows the brand names for more than just Cherry microswitches. Leave a comment if you know any of this related arcade information.
Here are some similar arcade posts
If you enjoyed this post, please consider to leave a comment or subscribe to the feed and get future articles delivered to your feed reader.