Looking to reproduce control panel artwork for your favorite arcade game? Here is a tip in regards to dimensions that can potentially remove a step or two in your reproduction process and it's all about finding button hole placement.
Find the distances for your arcade buttons
As I continue to work towards getting the Pengo control panel artwork reproduced there was one major decision I made. Seeing as I only have one Pengo control panel and I know that some of these reproduction pieces can take a long time (See Agent X artwork or most recently, the Zaxxon overlays) I wasn't really keen on sending off my panel for someone to have for 6-12 months plus if I could help it.
But if you are going to accurately reproduce a piece of art, and your printer doesn't own every arcade game ever made, they will need some piece to reference dimensions, colors, and other items. If you have extra items to lend, or in the best case scenario you have an NOS piece of artwork this whole post is irrelevant. I have neither so helping the printer properly position the button holes for die cutting is of the utmost importance.
Example control panel dimensions you'll need
These suggestions will vary with every control panel. Each panel has different buttons configurations, bolt holes and other user controls. The general idea is you have to indicate to your printer where to put the holes. Usually you'll want to measure from two dimensions on the panel to the button hole to give some idea of accurate placement. You'll also want generally measure the different distances between the button / other holes in relation to one another. In regards to the Pengo, here is an idea of what I measured;

Player 1 Button – Distance from left and top
Player 2 Button – Distance from right and top
Joystick Hole – Distance from top, (Offset in Illustration due to artwork) left, and right
Bolt Holes – Distance from joystick hole top, left, right and bottom
You can measure this to death, or you can just provide some general guidelines. In the end, there will be plenty of testing to make sure alignment is correct on the overlay before the holes are actually die cut.
If you are submitting a piece of artwork to me, to avoide confusion do a rough drawing or use a graphics program. Here is a detail shot of some of the Pengo joystick measurements. This is what I would like to see;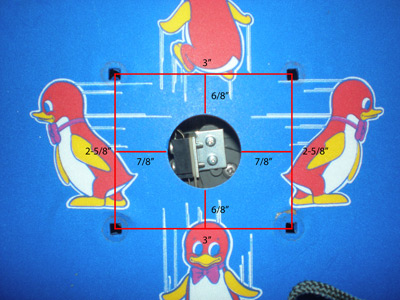 If you can't manage this, draw it out on paper in the shape of the control panel with the dimensions, take a digital photo or scan it, and email it to me.
Granted, if everything is correct in the file, you can measure the original arcade artwork scan in Photoshop to get distances on all of these button placements. This really serves as a double measure to make sure that everything is correct.
Questions?
In the end, the more dimensions the better, you just want the best product. Hopefully what you get will directly reflect what you put in.
Here are some similar arcade posts
If you enjoyed this post, please consider to leave a comment or subscribe to the feed and get future articles delivered to your feed reader.