I received a message from an ex-wife of a former Atari employee out west who claims that she has an Atari prototype called Cyberstorm. Apparently her husband used to work for Atari and she is trying to figure out how much the game is worth and is trying to sell it.
Worth of Cyberstorm – I have a guess
I poked around online and considered a number of different factors in trying to come up with a market value for a Cyberstorm.
It was released in 1993
It appears as if there were as few as 2 mocked up prototypes but it is still an 'Atari Prototype'
It's a JAMMA fighting game of some sort
The artwork on the cabinet is pretty basic / non extistent
Scott Evans owns an Atari Cyberstorm and has brought it to the California Extreme arcade show a couple of years. Here is a photo of that cabinet from that show;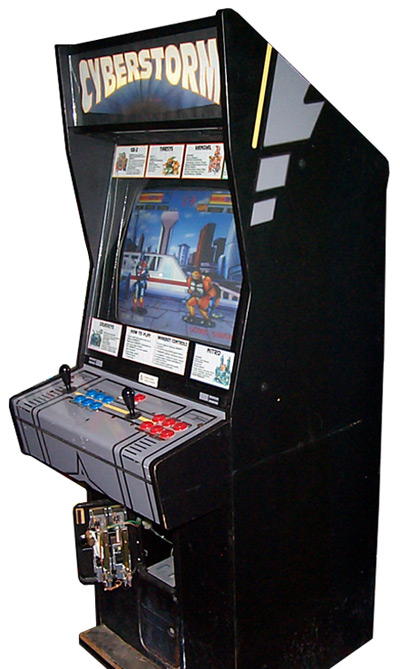 From what I have read online it doesn't seem as though many people like the game. But that is hard to determine, so few have played it, and if you are a classic enthusiast you probably won't be as into fighting games as you would, say, a vector.
I have my guesses on value / worth of a Cyberstorm, but I am curious to hear what you all have to say. Get in touch with me and let me know. Or, if you are one of the few that have traveled to CAX and have played this game, leave a comment on the gameplay and let us all know if it is a cool game or not.
Additional Links on Cyberstorm
Update Oct. 27, 2008
Ha ha, oh man, this Cyberstorm is up for sale. Wow! $2,500, I don't think so. I think that given that it is an Atari, and they are around San Francisco (Albany / El Cerrito) so games might be worth a little bit more based on location, but the economy still stinks, and this game wouldn't bring 2.5k even a few years ago. You have to shoot high, but someone seriously over estimates the value of this game.
My favorite is the UK comment. Seriously, drop your price to $1,500 and see what offers you get from there. You wouldn't be underpricing it necessarily and you might actually get some interest. Heck an Atari Prototype – Freeze! (1996), same era and same collector recognition at CAX, only sold for $800 just over a week ago on eBay.
Mint condition prototype designed by martial artist/artist. Must sell. Only played five times to demo it since 1993-1994 creation. A real collector's item and FUN for the kids or grown-up kids. Worth a fortune in UK.
Here are some similar arcade posts
If you enjoyed this post, please consider to leave a comment or subscribe to the feed and get future articles delivered to your feed reader.