A little persistence and a good memory pays off. Last week I saw a post on the Klov forums by a member named 'alphamonster' (Eric D.). That rang a bell and I remembered that I was tracking down an arcade collector by the same handle who I thought had a white Mr. Do! with sideart. Turns out I was right, and this time I was more successful.
Mr. Do! in New York is closer than California
Other than the sideart Mr. Do! in California, this one side of character artwork on this cabinet is one of the better I have seen.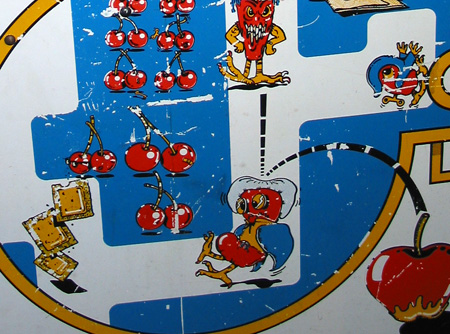 Most of the artwork is still there, and there is a possibility I could get some good straight on photos to work on finally piecing together what I don't have. Since this is my pet project, and there are so few of these machines, photos will be fine. They will have to be good photos, but the Mr. Do! characters on the side of the arcade machine are the same as the ones on the bezel, and with the basic pattern I should be able to reproduce the remaining artwork fairly easily. Either way I will have to adept it if I want the Mr. Do! art to fit on my blank Midway cabinet.
I took a look back through old posts on klov as I was researching and trying to contact 'alphamonster' about his Mr. Do! and I found a post on Klov from 2002 where he might have picked up this machine in a bulk arcade game buy. From what I was told just last month, these Mr. Do! machines towards the east coast were a pretty common thing. Eric also has a simple arcade website where he is currently trying to sell a few games like Frenzy and Gravitar if you are in the area and looking.
Thanks to Eric for the photo and hopefully I'll be able to get some more images soon as time allows.
Here are some similar arcade posts
If you enjoyed this post, please consider to leave a comment or subscribe to the feed and get future articles delivered to your feed reader.