Looking through my feeds today for some design ideas I came across a post that had an awesome piece of arcade themed artwork in it! Check out this Space Invaders, Pac-man and much more-piece below. Oh, and to me this one doesn't even scratch the surface of some of the work of this Guilherme Marconi! Makes me feel awestruck inspired and silly all at once.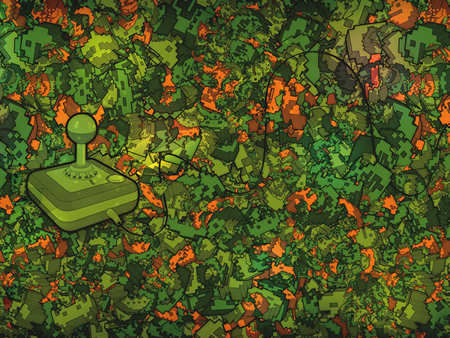 I want these colorful illustrations for my computer backgrounds
I just gawk at these and can hardly believe how well they work. Simple at the core, one subject matter that is vector drawn, repeated with some overlaid effects in Photoshop. But that is the beauty of great illustration. An artist can do so much with what might be considered so little.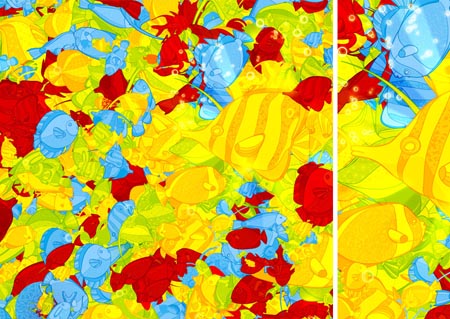 He is a master of color, and he knows his Illustrator, but there are also subtle details like shadowing on the characters and composition that really make these pop. Simple and yet detailed, my favorite type of art. Too simple seems boring, lazy. But this is hardly lazy. Does he draw all of these in Illustrator and repeat them? Does he use the 3d tool and rotate them around so he only has to draw 1-2 arcade, balloon, or cassette tapes and then shift them around?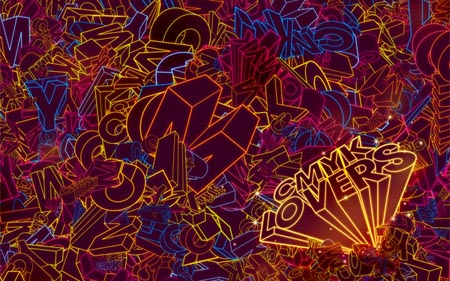 The arcade piece is cool looking, but the green color pallette is just ok. Can you imagine what that would look like with the glowing lines of his CMYK Lovers? Here is another one of his many pieces you can see in his portfolio.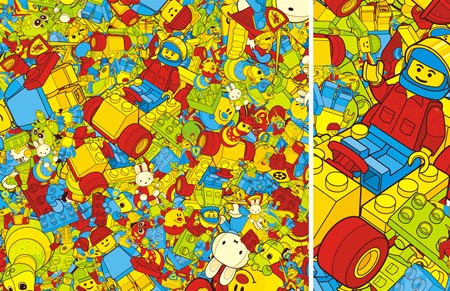 There are a couple of his earlier neon retro pieces that remind me a little bit of the work at Design Chapel, which I also really gravitate towards. But if that was an earlier style that he was mimicking he has definitely created a new style all his own, that is for sure.
View the whole wallpaper illustration type portfolio!
Check out more of his artwork below, and visit the home site of Guilherme Marconi for more amazing illustration. Look out man, you may have your first imitator!
Here are some similar arcade posts
If you enjoyed this post, please consider to leave a comment or subscribe to the feed and get future articles delivered to your feed reader.