About two weeks ago an old EM Flip Flop pinball game came up on Craigslist for $100. Tempting to me, but I have enough going on that I didn't need any more projects and I didn't pursue this pinball. Sounds like it wouldn't have mattered, about 30 people contacted the seller but someone I know ended up with it.
Flip Flop Pinball for a steal
Matt F. ended up being the first person to contact the seller. He was fortunate that the seller didn't end up raising their price after listing which we find is more common than not. He ended up paying the $100 and getting a classic pinball for a song. As far as I know, it needs a cleaning and a power cord, as well as some other items. If I find out more of what it needed, I'll post it here.
Granted EM pinballs will only be worth a couple hundred of dollars, but if you are looking to keep the game then $100 is highway robbery. Here are the photos from the Craigslist ad;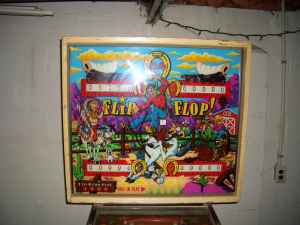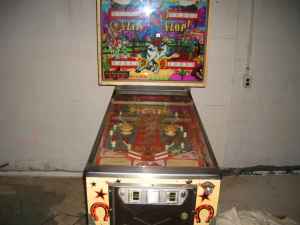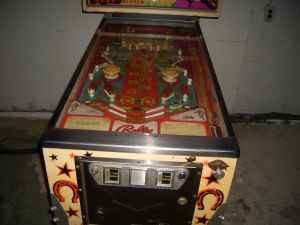 Backglass looks to be in good condition, and so does the stenciling artwork, at least on the front. Might be a pretty cherry machine after some soap and water.
Update Sept. 22, 2008
On Saturday I got to see this Flip Flop pinball in person, and what a $100 Craigslist deal this was.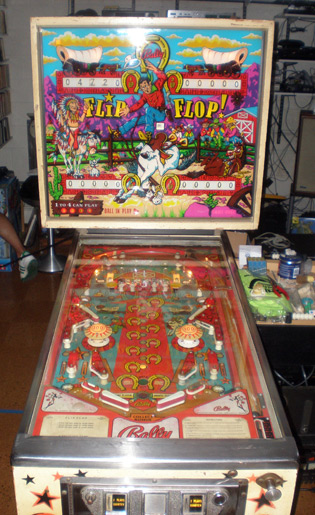 The backglass is in about perfect condition, the stenciled artwork is all there on the body.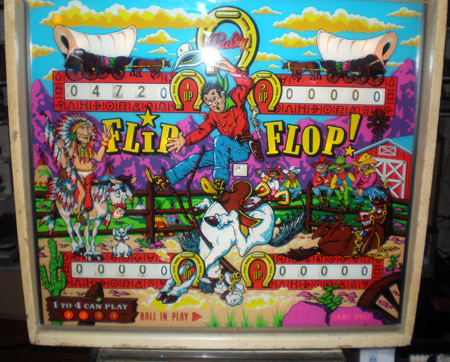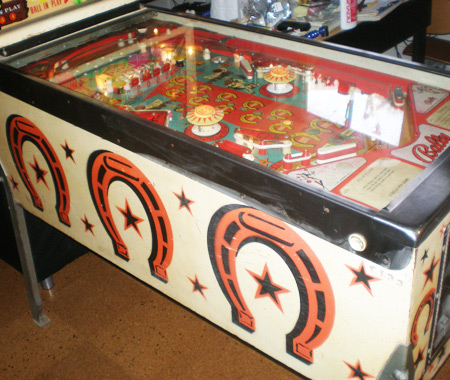 Granted, the cabinet has some scuffs down to the wood around the edges from being moved over the years, but all in all the body's artwork is very nice. The header is probably the worst part on the whole pinball and could use a going over.
Supposedly you can get stencils for a Flip Flop pinball from Bay Area Amusements but it comes back down to how much money should be put into one of these EM's? If it's a favorite, then as much as possible. So far the game did need the new power cord, some new rubbers, coils and a bumper rebuild, but the plastics are in solid condition and the game plays great.
The story on this pinball was nothing spectacular. The original owner had it in his garage for many years, and claimed to have bought it at a garage sale. It did spend some time in a bar of some type given the color of the cabinet. Now, if only there was a way to get the nicotine smoke color out of the white and the machine would really shine.
Here are some similar arcade posts
If you enjoyed this post, please consider to leave a comment or subscribe to the feed and get future articles delivered to your feed reader.