Short but fun and informative post, here are a couple of photos showing that Bally / Midway didn't paint the plywood boards solid blue and then add the pink and the yellow. They had a blue stencil that left areas of the cabinet blank, exposed to primer to allow application of the lighter colors later on.
Should Vinyl Ms. Pac-man stencils be made in this fashion?
I don't know, what do you guys think? My initial opinion is that the files from Paul Murphy to make our own Ms. Pac stencils are great. They would take some reworking, work that I am sure he wouldn't want to do, and I know that I probably won't do either.
But I will say, I would guess that having the blue as a stencil would make spraying easier for the yellow paint. But would the additional cost for another set of stencils for each side, making 12 stencils in total be worth the extra cost? I also lean towards no on that one.
Here is a photo of the bottom of a Pac-Land. Pac-Land's were produced later on, after Ms. Pac-mans. You can see Bally resused some Ms. Pac-man board scrap to make the bottom and we get to see a glimpse of how they stenciled the artwork.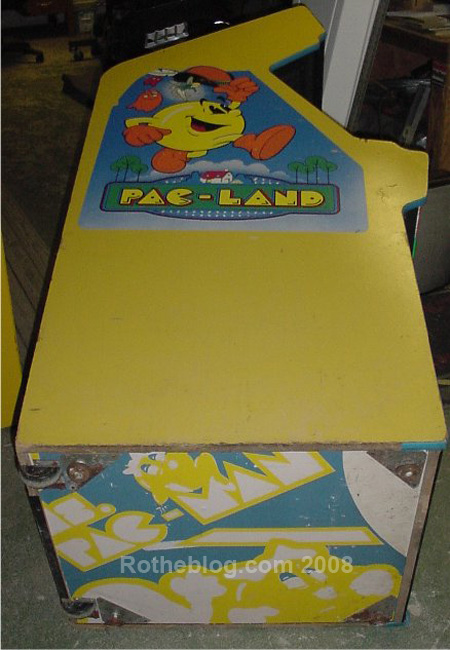 The artwork was laid down on a solid board and then probably CNC cut to the shape of the cabinet. This photo shows that this piece must have had an error or something right before the pink was laid down.
Also, here is a detail shot on my second backup Ms. Pac-man that shows some of the overlap of the blue and the yellow. Pretty darn good registration all over, this was one of the few spots I could find and even these are hard to see. Look on the yellow and pink horizontal / vertical bars. By the 'V' you can see a faint overlap, and towards the slanted point you can also see the yellow covering the blue.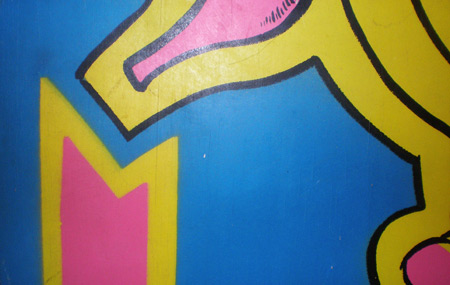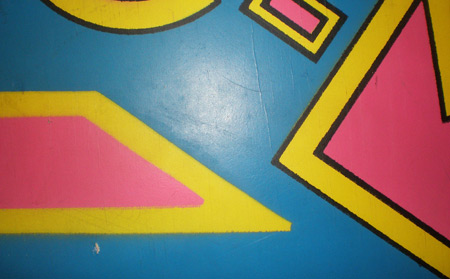 What do you think?
If you are one of the collectors who got a set of Joymonkey Ms. Pac-man stencils, would you rather have a stencil for the blue, or paint the blue solid and have to add a lot more paint for coverage with the yellow? What about you guys that may do this in the future now that I have painstakingly gone over a ton of details of restoration painting a Ms. Pac?
Here are some similar arcade posts
If you enjoyed this post, please consider to leave a comment or subscribe to the feed and get future articles delivered to your feed reader.