I finished spraying the passion pink on my Ms. Pac-man on Thursday, but with family in town this weekend I am only now getting a chance to post some photos. I think just now the Ms. Pac-man machine is really starting to manifest, looking like a real project with a real ending. But of course, every stage has its hiccups and the pink stencil was no different.
The importance of spray gun filters
I learned a couple of things when I did my Ms. Pac yellow stencil. First, when *you* think the paint is still wet, that is probably a little bit closer 'tacky' and it might be time to pull the stencil off. Certainly don't leave it on there more than 20 minutes or you'll be cutting it off.
Second, that tiny little plastic filter that comes with your spray gun is like Bernie Williams. Bernie Williams was the single force that made or broke the Yankees during their dynasty days, and this filter is no different.
I had a ton of problems with clogging, spitting and spraying in general when applying my yellow. Like I said before, the directions from Harbor Freight for this gun were minimal and I by looking at the strange balled tip on the filter I really didn't figure it went into the spray shaft. But it did.
I only figured this out later into my application. In Brian Jones' stencil instructions he talks about certain industrial sprayers not being appropriate for this application because of the 'orange peel' texture they leave. I can only assume this is what he was talking about. The main danger is that the low tack stencils won't stick to the cabinet, and that is what I experienced.
Here is a photo of my 'orange peel' yellow, a detail shot showing the bubbly texture.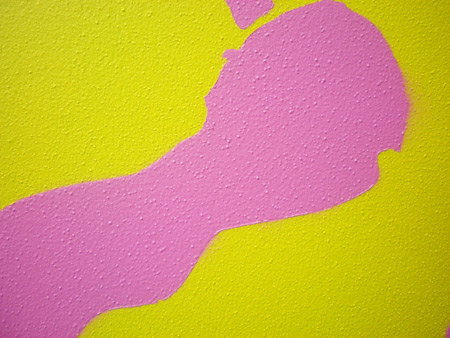 And here is a detail shot showing some of the pink stencil paint after I was finished. I knew the stencil wasn't sticking, but I didn't know what I could do about it.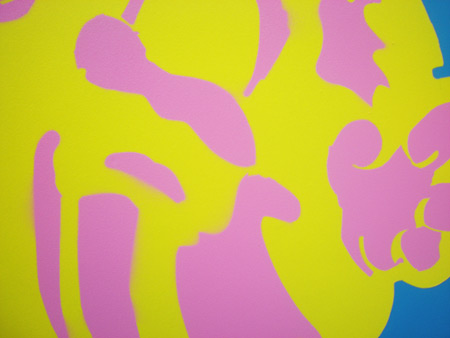 But when you look back at the old Bally Ms. Pac-man cabinets, you see that alot of the lines beyond the black were kind of fuzzy. I didn't think I would prefer overspray, old trying to replicate this look. But I will say that as of right now, some of the spots don't bother me. I anticipate that I well go back and dab some yellow paint into the overspray areas that aren't covered by the black stencil artwork.
So, here is what the cabinet looks like now with the pink applied.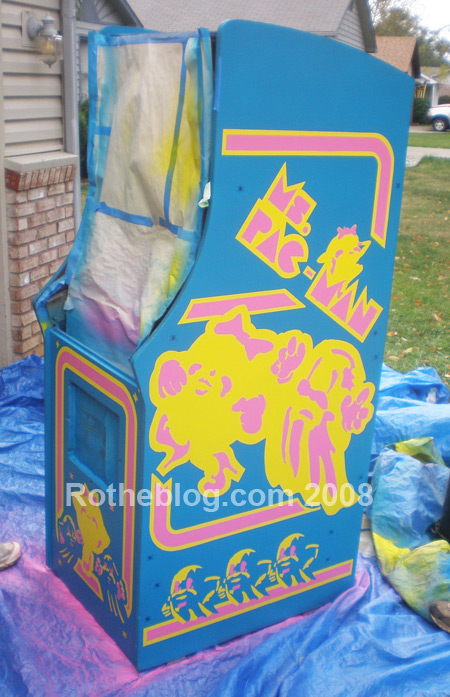 More good tips for me?
The next step is making a little hacked together stencil to add the yellow the ghost's fist on the front. Then, I apply the black.
Does anyone have any tips on application techniques that have worked for them for touchup on a smooth finish like this? My fear is that even if I dab the paint with a painter's paint brush, the thin handle kind not the thick room painting variety, is that I will see the brush strokes.
I don't have any idea of what the Minwax clear coat will look like, how thick will that be if I apply 2-3 coats? Will that hide some of the texture of the paint and brush strokes if I have them from small touchups?
Here are some similar arcade posts
If you enjoyed this post, please consider to leave a comment or subscribe to the feed and get future articles delivered to your feed reader.