Last time I had written about my Ms. Pac-man re-stenciling progress I had just finished patching my cabinet. The next major block was to figure out the spray gun factor and I have learned a lot over the last week or so.
Fixing Splits in the plywood surface
When I was reading about painting cabinets, I kept hearing that every little blemish will be personified. So, I felt like I was really picky when looking over the cabinet, patching even small dings. But I kind of figured that some of the splits in the cabinet would be masked by the primer and or the coats of paint. But so far, that hasn't been the case.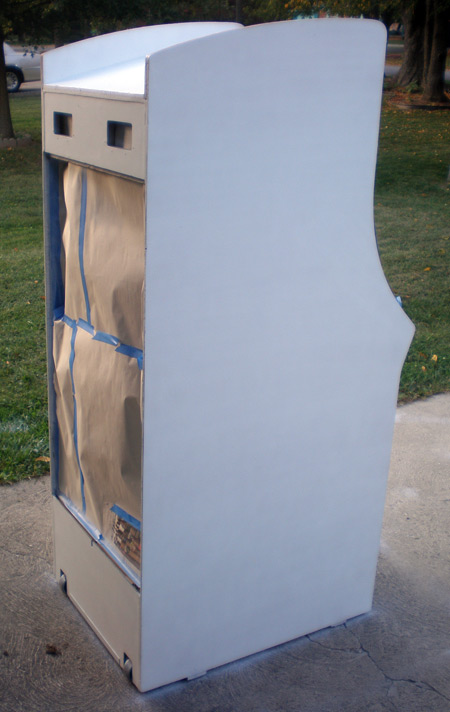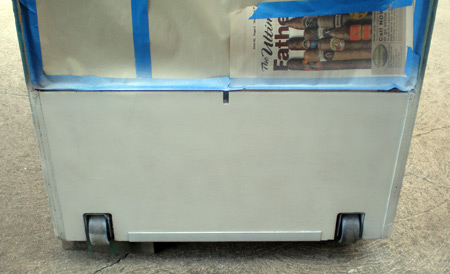 I don't know exactly what I should have done. I could have used bondo, but I guess I didn't feel like the splits were deep enough for bondo, and if the wood was lifting how would bondo be the solution for that?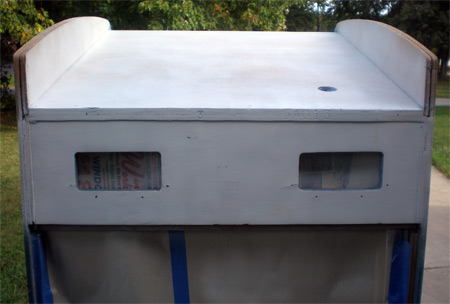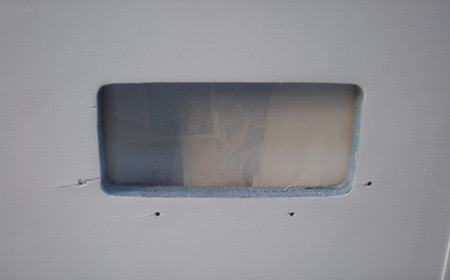 I guess I just didn't know the extent to how noticeable these cracks would look. And in this example, the split in on the back, and it should be mostly covered up by the filter covers. (The only screw hole that really applies here and is bad enough is the one on the left.) But how should I have attempted to fix these? Suggestions? Should I have totally pulled up the piece of wood? Should I have pulled it back a little and try to glue it down? Put wood hardener over it?
Tank size for the air compressor has been critical
The first person I asked to borrow their air compressor had one. I think I have used an air compressor a handful of times in my life, and since I didn't own one I really was pretty clueless about tank size and even that some compressors you have to maintain, and some you don't as much.
The air compressor I borrowed first has a 2 gallon tank DeWalt.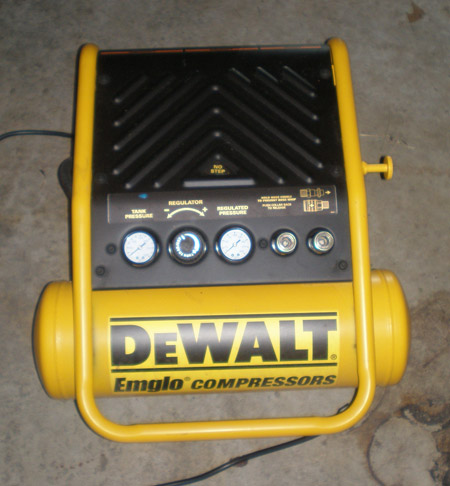 Never having done this before I didn't think it was odd that my first coat of paint wasn't very thick and it took me nearly 2 hours to lay it down all over the cabinet! I don't want to take anything away from this compressor either. It was so freaking hot when I was done, but it powered through a two hour session. I had the owner check the manual on running time, he said he couldn't find anything. I am guessing though that I may have decreased its life span a little bit. 🙁
But by the second and third coat, and judging by the streaks I was getting and how long I was having to wait for the compressor to refill I was realizing that a 2 gallon tank was a nightmare to use with a HLVP spray gun. After talking more to Chris Moore, I wasn't even sure a 10 gallon tank would cut it, let alone the 6 gallon tank that was recommended by Donnie in Part 2 of the Ms. Pac-man stencilling tutorial. He didn't mention having any problems with his tank, but I wasn't willing to risk buying a 10 gallon and then still have problems.
I tracked down a friend who owns a number of rental properties, and he had a 20 gallon Craftsman air compressor.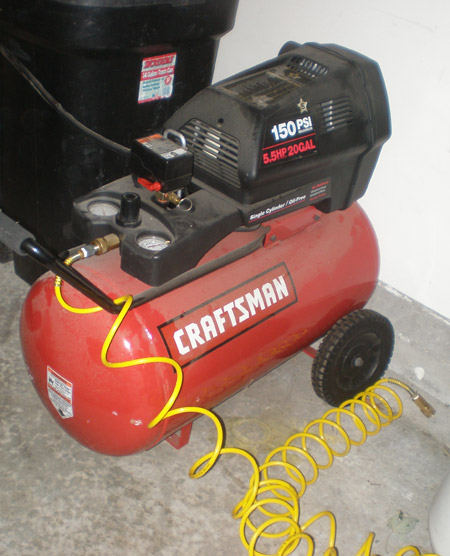 I put the third coat of primer down on my cabinet in half the time and with much more ease in general with a thicker spray. Now, the compressor did come on and stay on for a good portion of the time I was spraying. But it didn't flip my breaker, and I never lost pressure.
I can't speak to another tank, but that says to me that in the most ideal situation a 20 gallon tank air compressor is the minimum for a job like this. They're expensive at that size, and it may be hard for everyone to find a friend who has one, but my guess is that anything under 10 gallon will make you go crazy.
We're I'm at now
I am cranking. I feel more confident about the spray gun and other things related to the cabinet painting. I know that my days for painting in Indiana are numbered, today we dipped to 68 degrees.
Everyone I know has said under 70 degrees you are asking for trouble in painting an arcade cabinet. The lady at Home Depot told me otherwise, and I am hoping that 68 degrees is close enough to 70 to be ok.
I bought my colored paint today from Home Depot, and I put down my first coat of blue. I am thoroughly embarrassed to show you a photo of that, so I will try to post a photo after I get the second coat down and try some new things with my spraying technique.
If all goes well, I would like to lay down the Ms. Pac-man yellow this weekend. But we'll see, that means using my first vinyl stencils and I am pretty nervous about that.
Here are some similar arcade posts
If you enjoyed this post, please consider to leave a comment or subscribe to the feed and get future articles delivered to your feed reader.