Got to talking with a new friend at the fall USAmusments auction here in Indianapolis, and he was telling me about Night Driver. I only knew Night Driver from the flyer, the colorful well designed and retro flyer. I said "Oh yeah, the upright with the purple and yellow artwork, I've never played it".
"No", he said. "The cockpit version, it's hard to describe."
I looked up the Night Driver cockpit when I got home, kind of like a horizontal Computer Space without the collector demand.
A piece of the awesome Night Driver flyer
Here is a little snapshot from the Night Driver flyer. The artwork on the side of the cabinet is the same way, thick silhouettes that convey motion and a stylized drama.

Then, there's the cockpit. Atari's Night Driver cockpit is made of fiberglass and is world's different from the upright version (Night Driver upright photo on Klov). It is interesting that not every classic arcade game made out of fiberglass has a strong collector demand, even though there were so few fiberglass games made and as of right now I don't know of any other cockpits. Were there? Here is the Night Driver cockpit.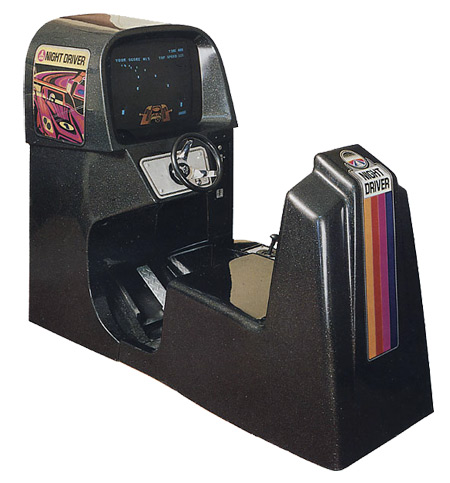 I haven't seen one of these in person, it looks like the cockpit is a dull green or grey in color. Not nearly the striking blue or red of a Computer Space, and not nearly the amazing shape of a Maneater, Night Rider suffers from a little boredom. Original, but boring, not nearly as resplendent as the upright version with decal stickers that look like a ported after thought from the wood cabinet. How cool would this cabinet have been if they could have done some sort of etching of the exact artwork on the decals into the fiberglass!
I did some poking around, it appears as if these old Atari cockpits sell for somewhere in the neighborhood of $200-$300 working! Maybe less today. I don't know if they were hard to keep running, I tried out the game on Mame last night and it was pretty archaic. Reminds me of a game my mom copied code out of a magazine for our commodore in the mid eighties, but that was a skiing game and even then it was pretty lame. Are there obstacles or something in the road after the first level in Night Driver?
Who owns a sitdown Night Driver?
If VAPS.org is up to date, there are four people who own one of these sitdown Night Drivers, one of which is for sale. I don't know any of these people personally;
Tim Burnham
Some guy named 'Cleaner'
Tom Szymanski
A Ogrady
Interesting enough for A Ogrady, this is the only game he owns and 'Cleaner' was looking to sell his if you are interested (California). I have seen Tom's name before, he has an amazing collection and I'd love to hear some of his stories. But as you see, not too many people own the cockpit, even if this was only a quarter of the collectors that own this game that would still only be 16 people total.
Final Thoughts
Anyone have any insights? What is gameplay like in your opinion? Why isn't this game worth as much as some of the other fiberglass ones? (I would guess that it is because it doesn't have the label as one of the first arcade games, but I could be wrong)
Here are some similar arcade posts
If you enjoyed this post, please consider to leave a comment or subscribe to the feed and get future articles delivered to your feed reader.